IMO 2015: AS OJIRI BOWS TO PRESSURE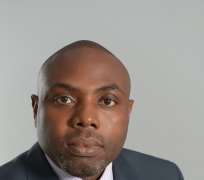 The people of Imo state in South East, Nigeria shall forever thank God for not leaving them comfortless, as promised. Just as it was in the days of old, at a point where it seems there is no hope, God manifests his glory as the last hope of man.
Little wonder therefore, people of the state are presently having a sigh of relief, following the decision of a man seen by many as both the Biblical 'Moses and Aaron' of our time, Mr. Ken Ojiri, to answer the clarion call of being governor of the state, come 2015.
The re-orientation apostle, as he is fondly called, is presently, Managing Director of the Darlko Consulting Limited, a Nigeria-based management and tax consultancy outfit. He is a community leader, peace advocate and above all, a God fearing man.
Kenneth Ikechukwu Ojiri (KO) is born to the family of Ojiri-Iwuala of Owalla-Uratta in Owerri North Local Government Area of Imo State.
An outstanding scholar; a local and international business practitioner, humanitarian and experienced administrator, Ken is a typical example of an illustrious son; the pride of every relative and friend as well as a well-schooled technocrat. He holds a Bachelors degree in Banking and Finance from the Anambra State University, a Master of Business Administration (MBA) from the University of Nigeria, a Master of Science (M.Sc.) in international business from CERAM Business School, Sophia Antipolis, France. He also has an International Executive Masters (Exc. M.Sc.) degree in Finance and Controlling from the University of Maastricht, Netherlands, as well as an Advanced Masters degree in International Tax Law from the University of Leiden, Netherlands.
He is a chartered financial controller and a tax expert, specializing in internal control systems, business re-engineering and international taxation. His experiences include financial and tax services to multinational companies and revenue boards in Nigeria, the European Union and United States of America.
Ken is a very brilliant and experienced professional, a first-rate technocrat and philanthropist. Little wonder then, he was the bride to watch at every of his appearances in public, in his active days in academic pursuit. This however came as a result of hard work, commitment, and above all, God's divine favour, as he has always said.
In pursuit of his life career, having been equipped with sound academic and professional knowledge, Ken has over two decades of cognate business and working experience in both the financial and private sectors of the economy. He is a Director in a number of business organisations and has carved a niche for himself in the business world by stint of his faith in God, hard work, dedication, honesty, commitment and accountability.
His characteristic outstanding performance in academics and professional practice earned him several distinguished awards, locally and internationally. He is the Chairman, Ken Ojiri Foundation, a non-profit organization involved in youth development and empowerment program, targeted at scholarship program and general welfare, especially, for Imo indigenes.
With a philosophy of service above self, Ojiri is a man of many interesting parts; an Altruist; a Philanthropist, Politician, Writer, Financial Expert and an astute believer in the service of God and humanity.
His numerous scholarship, youth and women empowerment programmes and community infrastructural development projects speak for themselves.
Following incessant calls by Imolites for him to return and get involved in partisan politics, with the view to helping to deliver the state from the shackles of bad governance and maladministration, he has answered the clarion call, hence, his decision to throw in the hat in the battle to be the governor of the state, come 2015.
Speaking on his gubernatorial ambition, Ojiri says, 'What inspired me primarily is what I see as the future of the state. Imo State presently is one of the poorest states in the country, not in terms of availability of funds, but in terms of leadership.'
'Imo is one of the Oil producing States of Nigeria and we receive the 13% derivation funds from the Federal Government. If you take a look at the investment profile of major oil companies in Nigeria, they are now moving towards deep water. Few Oil companies are interested in developing swamp and land locations. The reason is either because of the hassles they go through, community crises, and of course, activities of militants before the amnesty came into place. What that means is that if there is no renewed investment on land production, with time, the production on land and swamp will fizzle out. In fact, from my own calculation, in the next 20 years, Imo and many other states within the Niger Delta area may suffer.'
'Given this reality, this is the time for the state to begin to look at alternative sources of revenue, which so far, we have not started pursing. If we do not start thinking along this line, it means that we have nothing to leave behind for those coming behind us. That is what inspired me to be interested, so as to deliver the state. What my government will do is to use the resources that are available now in developing an alternative revenue base for the future of Imo state.'
On insecurity, he explains, 'In respect of Political violence, it is unfortunate that some persons have decided to resort to violence as a means of achieving political power. I believe that leadership can only be enthroned by God. If you are not ordained by God, no matter the level of violence, you will not be there. Violence in Politics is something every right thinking person should condemn. I call on all law enforcement agencies to look out for those politicians that are breeding violence. Those who use youths as a means of achieving political goals and thereafter abandon them must desist from that. It does not help. We should all condemn it. Massive and elaborate youth and women empowerment programmes shall be introduced to divert the minds of the youth to more progressive ideas, while also strengthening the capacity of the security agencies in the state.'
On the ultimate solution to the Imo problem, he says: 'massive development of the state and sincerity of purpose are the ways out.'
Advising further, he says, 'Imo State, I must say has not had a fair deal and my advice is that they should be wiser this time around in selecting their leaders. They must resist every attempt to buy them over, reject the 'political seasonal Greek gift' and ensure that credible persons are chosen. The ruling class should also realize that they are representatives of the people and should be accountable to them. They must be transparent and serve with the fear of God. I am optimistic that God will deliver us.'
Commenting on his vision and mission for the state, he says, 'To Place Imo State as the best organized stable state with an enabling environment for investment, reduce unemployment to a minimal level and uplift the standard of living of the people; turn Imo into a single-city state with huge infrastructure and make it a destination of choice for both business and pleasure.'
'My mission is to provide basic infrastructure, business friendly environment and re-position the State's Civil Service as well as public office holders for partnership with the Private Sector to create a self-sustaining economy, independent of Oil & Gas. Re-orient the focus of Imolites and instill attitude for hard work, industry, investment, accountability and transparency.'
'We shall take deliberate steps to resuscitate ailing industries, build new industries, create employment and increase the internally generated revenue of the state with the view to ensuring massive development of the state. We shall have zero tolerance for corruption and criminality.'
From every indication, with the decision of Mr. Ojiri to bow to pressure from the masses to be the next governor of the state, the search for a credible candidate in Imo state has ended, as, when a child eats that for which he was awake, he falls asleep.
As one from a humble beginning, who grew up here in Nigeria, he knows the problems of the state and has solution to them. In all his years in professional service, he was busy empowering and creating opportunities for young Nigerians, an act that has endeared him so much to the people. Little wonder, the call for him to come and take over the state has become ceaseless. He is a core grassroots man.
Ken Ojiri has proved that he is a rare breed; a true son of Imo and a good politician who understands the rules of the game. Identifying with the grassroots is one of the first laws of the game of politics, because without the electorate, he would not go far. If he continues in that spirit, the sky will be his stepping stone.
On the chances of his making it for the Imo state government house, a key stakeholder, who is currently serving in the present cabinet in the state, but spoke on the grounds of anonymity, emphatically says, 'He is the right candidate. The truth has to be said. Anybody that wants this state to get out of its present state and move forward must support him. He has the solution to our problems. I know him very well and anything he touches succeeds. You will see, with his entry to the race, the Biblical David and Goliath episode is about being repeated in our time.''
As the countdown for 2015 continues to gather momentum, there is no doubt that despite rumours from certain quarters that some emerging power blocks are showing tremendous interest in the exulted position, the people have already set their minds on whom they may be rooting for when the whistle is finally blown.
A staunch member of the old brigade said in a telephone conversation recently, that the popularity, outstanding records and vision of Chief Ojiri is making it increasingly difficult for them to penetrate the people who were hitherto under their control.
He also expressed fears that the principal stake holders and the All progressives Congress may be swayed by what is happening and lobby Ojiri to abandon the Peoples Democratic Party and run on her platform, a permutation he described as impossible, considering his commitment to the PDP.
Whether the old brigade will hear this advice and recoil to their shelves and allow a credible candidate to emerge is a matter for further discussions.
When the righteous are in power, the people rejoice. Therefore, Imo people have set an eye on whoever that shall attempt to stop this move to deliver the state from the hands of the 'Biblical Pharaoh', that has held the state siege.
All patriotic and well-meaning citizens of the state must as a matter of serendipity rise and take their destiny in their hands. Let all rise against maladministration in Imo; enough of imposition of incredible and visionless leaders.
This is a moving train. Join the sailing restoration Ship now and be part of history!
Disclaimer:

"The views/contents expressed in this article are the sole responsibility of

Chike Duru

and do not necessarily reflect those of The Nigerian Voice. The Nigerian Voice will not be responsible or liable for any inaccurate or incorrect statements contained in this article."
Articles by Chike Duru