Obasanjo decries increasing level of blindness among Nigerians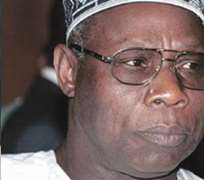 FORMER president, Chief Olusegun Obasanjo, on Sunday, expressed concern over the increasing level of blindness among Nigerians.
Obasanjo expressed his feelings when he addressed hundreds of eye patients who came for free eye test/surgery organised by the Olusegun Obasanjo Presidential Library, in Abeokuta, Ogun State.
The former president, who noted that there had been considerable technological advancement in the area of eye surgery, said 'Nigerians should no longer be living with blindness.
'While such situation could be permissible 50 years back, no justifiable reason can be adduced to it in the present day Nigeria.'
Obasanjo said 'I was once a victim, because I once suffered eye-related ailment and it was the experience that moved me to assist people currently going through similar experience.
'I will continue to assist the underprivileged who have eye problems, because I myself was once a victim. I had to be operated upon before my eyes were restored.'
The former president urged eye patients to abide by whatever instructions the doctors gave them.
Obasanjo's wife, Bola, who was also at the programme, called for concerted effort to assist the physically challenged in the society.
The programme coordinator, Dr Lekan Makinde, said over 1,000 people had been treated with over 150 having cataracts infection.
He said the lowest cost of the kind of eye surgery being performed for the people ranged between N150,000 and N200,000.
The programme, according to the News Agency of Nigeria (NAN), will end tomorrow.