Industrial Court fixes June 3 to hear Sanusi's motion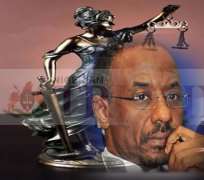 The National Industrial Court has fixed June 3, 2014 to hear the motions for stay of proceedings and execution of the judgment of a Federal High Court, Abuja, in the suit filed by the suspended governor of the Central Bank of Nigeria (CBN), Sanusi Lamido Sanusi, challenging his suspension from office by President Goodluck Jonathan.
The presiding judge of the court, Justice Babatunde Adejumo, said it would invoke Section 47 of the NIC Act to entertain the matter, since it was transferred by a court of coordinate jurisdiction.
Counsel representing the Attorney General of the Federation (AGF) and Minister of Justice, Mr. Mohammed Bello Adoke (SAN), Chief Mike Ozekhome (SAN), had told the court on Friday when the matter came up for hearing that the respondents, including the President and the AGF, have separately filed a notice of appeal at the Court of Appeal against the judgment and have also filed motions for stay of proceedings, at the Industrial Court pending the outcome of the appeal.
The respondents, through their various counsel said a federal high court in Abuja erred in its judgment by declining jurisdiction to entertain the matter and still, went ahead to transfer the matter to the Industrial Court.
Justice Gabriel Kolawole had, last week Tuesday, declined jurisdiction to entertain Sanusi's suit, on the ground that it was labour related and consequently, transferred it to the National Industrial Court for adjudication.
The suspended apex bank governor had, in his suit, wanted a court order reinstating him back as the CBN governor.
Jonathan suspended Sanusi four months before the end of his five-year term, accusing him of 'financial recklessness and misconduct.'
It followed calls by Sanusi for an investigation of the Nigerian National Petroleum Corporation (NNPC) for allegedly withholding billions of dollars of oil revenue.