Eket Community Rounds Up Charity Week In USA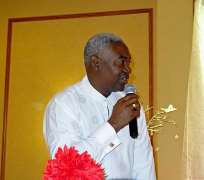 The weekend of 23-24th May, 2014 was a special one for Eket sons, daughters and their friends in US and Nigeria.
They discussed issues that affect the communities both in Eket, Nigeria and in the US. They socialized and met old friends and made new ones.
Prof. Richard King was a Special Guest Speaker but couldn't make it to the event due to death in the family. The keynote speaker was distinguished Senator Etang Umoyo. Among the dignitaries present at this year's convention were Chief Usua Amanam, former speaker of Akwa Ibom State House of Assembly, Rt. Hon. Barr. Bassey Essien, Gubernatorial Aspirant Dr. Samuel Udonsak.
Perharps, some of the highlight events at this convention was the Youth Seminar, that sought to involve our youth by celebrating their achievements and offering them a platform to speak with one another.
Dr. Moris Ekwo, a veteran educator and volunteer spoke to youth about community service and the spirit of volunteering as vehicles to build a strong society.
Usua Amanam Jr. A 2013 Rose Bowl Stanford's Defensive Player of the game and 1st year master degree student at Stanford University gave a powerful keynote speech about the importance of education in a paper titled: 'Why Education?'. He stated 'There's a low probability that an NFL career is going to happen for most college football players,' he said. 'That's the reason I chose Stanford. If the football route doesn't work out, I'll have a Stanford degree to fall back on.' Well, he did not wait for football dream to workout, he opted to go for a masters degree in Energy Resources Engineering. EDC hopes to build up on the youth participation in future conventions.
Different Ekid cuisines were in abundance and the party and charity week remained great with indelible marks.
Obong Chris Oduok was sworn in again as President to continue to run the affairs of EDC USA Incorporated.
Ekid idediong ooo!