Don't mix politics with religion - Wamakko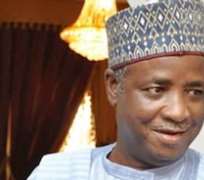 Governor Aliyu Wamakko of Sokoto State has cautioned Nigerians against mixing politics with religion.
He gave the warning on Friday in Sokoto when he inaugurated a mosque built and donated to Nakasari community in Sokoto South Local Government by Alhaji Altine, a businessman.
Wamakko, who was represented by the Commissioner for Religious Affairs, Alhaji Tukur Alkali, stressed the need for Nigerians to uphold the tenets of peace, unity and brotherliness.
In his remark at the occasion, the Sultan of Sokoto, Alhaji Sa'ad Abubakar, appealed to clerics in the country to always preach the gospel of peace and unity.
Abubakar, who spoke through Alhaji Sani Umar, the District Head of Gagi, commended the donor for the gesture.
Sheikh Sani Jingir, the National Chairman, National Council of Ulama, appealed to Nigerians to be security-conscious.
'We should always report any suspicious persons or movements to security agencies for surveillance, investigation, arrest, and possibly prosecution,' he said.
Highlight of the event was the conduct of Friday prayer, led by Sheikh Abubakar Mabera, the state Chairman of the Council of Ulama.