Jide Kosoko tasks Nollywood on professionalism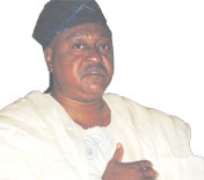 Abuja - A veteran Nollywood actor, Jide Kosoko , on Friday urged artistes in the movie industry to portray professionalism in their work, to bring rapid development to the industry.
Kosoko said in Abuja that  there must be a prevailing peaceful atmosphere for the industry to thrive and develop.
'Most actors in the movie industry do not add professionalism to their work such that you see faults in most films,'' he said.
Kosoko said the Nigerian film industry, called Nollywood , had gone beyond just acting and there was the need to add professional touch to it.
'Where there is professionalism, there is a better output; Nollywood actors do their film productions without involving professionals in the industry.Most films produced in the country are poorly done as some film makers exhibit lazy attitude.One will need to carry out proper research and investigation to enrich the content of a film,' he said.
Kosoko said that for development to take place in the industry, Nigerian actors needed to work in unity to promote the sector.
He urged the Federal Government to work with associations in the sector to identify the right people in the industry.
Kosoko also urged actors to put their best in their work, to bring back glory to the industry.
He advised the Federal Government to set up modalities on the disbursement of its intervention fund to film makers to ensure its proper usage.
Kosoko said the movie industry was a big revenue earner for the country if adequate attention was given to it.
-NAN