Jonathan's failure to visit Chibok shows insensitivity - Ezekwesili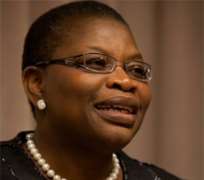 The leader of #Bring Back Our Girls Campaign group , Mrs. Oby Ezekwesili, yesterday, said the failure of President Goodluck Jonathan to visit the family and relative of abducted 164 girls of Government Secondary School, Chibok, Borno State shows insensitivity to the plight of the people in the community.

The former Education Minister, stated this at a symposium in Abuja.

She alleged that hoodlums were paid on Wednesday to disrupt the everyday sit out of the group.

Their campaign that is centred on the return of the 164 girls that are still incarcerated by Boko Haram since 14th April, 2014.

The theme for the symposium was 'Citizens, accountability, and Democracy'.

It would be recalled that hoodlums from another group wearing a T-Shirt with Release our Girls inscripted destroyed some of the chairs, spoilt camera, mats and harassed members of #Bring Back Our Girls Campaign group ,

According to her, 'The inability of President Goodluck Jonathan to visit Chibok shows the insensitivity of the federal government, to the plight of the relatives of the abducted girls'.

Reacting to what happened Wednesday at Unity Fountain in Abuja, she said, 'Hoodlums were paid yesterday, to disrupt our everyday sit out but our group is not deterred. We will continue until they Bring back our girls well and alive'.

Oby said, it was rather unfortunate that the federal government inaugurated a committee 2 weeks after the girls were adopted this showed the commitment of the government in rescuing the girls.

'It has been found that actions taken 24 hours after kidnapping determines how soon those kidnapped would be rescued'.

A Professor of Law, Professor Awal Yadudu, in his address said all hands must be on desk in ensuring the rescue of the 164 Government Secondary School Chibok, Borno State.

According to him, 'We must all put our hands together to ensure the rescue of the girls well and alive. We shouldn't lose focus. It is imperative for all of us to see ourselves as human beings and not as human beings fighting over faith.

'There is a unity for unity of purpose to fight evil in our society. When we talk about accountability we must be united. We must not allow ourselves to be used'.