Obasanjo: How I stopped Boko Haram during my presidency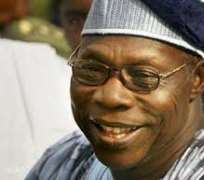 Former President, Olusegun Obasanjo, on Thursday, said that Boko Haram did not pose any major challenge to his administration because he allowed sharia free run.
'Boko Haram have been in existence for yearsthey didn't disturb my government because when I was in government I did not disturb their Sharia. Sharia is part of our constitution,' the former President said.
He spoke in an interview with Channels Television at his hill top residence.
Obasanjo who was reacting to the news that he met with persons believed to be close to members of the Boko Haram sect, said he would not do so without the knowledge of the president.
He revealed that he was making moves to reach President Goodluck Jonathan before holding talks on the Chibok girls 'but was surprised at how certain meetings have turned out'.
'I cannot have a plan without the Presidency being involved', he said, debunking claims that he was 'going on a one man mission'. He insisted that it would be 'idiotic' for him to have done so.
He noted that he was beaten by Shehu Sani to letting the state and national authorities know the meeting had taken place and admitted that he owed them an apology. He added, 'I have to involve the President and he also tells me this is what we are doing or this is what we are pursuing either in addition or along with what we are doing or not'.
On the allegation that the abduction of the girls was orchestrated to bring down the Presidency of Goodluck Jonathan, the retired general said 'If the Presidency is obsessed with one thing and one thing only and any other thing of concern to Nigeria is secondary then the Presidency will take that position' adding that this 'will be unfortunate'.
General Obasanjo further noted,
Obasanjo also reacted to claims by the military that they had located the place where the abducted Chibok girls were being kept by members of the radical Boko Haram sect.
Reacting to comments made by the Chief of Defence Staff, Air Marshal Alex Badeh, on the whereabouts of the abducted girls, he urged the military not to engage in Public Relations stunts with the Chibok girls' issue.
'This is not an issue that you will play Public Relations propaganda with. It is a serious issue that is like a spear in the heart of the parents and whatever statement we make and action we take, if it will not really deal with the issue in a way that will bring those girls out safe and secure and make their families happy and will also give every Nigerian a sense of security, then such statements should not be made', he said.
He further argued that the American forces also have the means to confirm or debunk the statement made by Air Marshal Badeh over the location of the girls.
'I will be pleasantly surprised if those girls are returned intact', he said.