Fashola opens N2.5bn Yaya-Abatan Road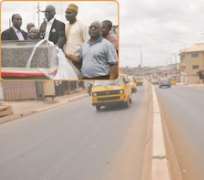 Governor Babatunde Fashola of Lagos State on Thursday commissioned the 2.9km Yaya-Abatan Road in Ifako Ijaiye area of Lagos, Southwest Nigeria, built at a cost of over N2.5 billion.
At the commissioning of the road, Fashola accused the Peoples Democratic Party, PDP-led government of President Goodluck Jonathan neglecting the masses and amassing wealth for themselves, calling on Lagosians to reject the party in next year's elections.
'Ifako-Ijaiye has become small London. Our opponents criticised us that we are running an elitist government. They said we work for people living in Ikoyi and Lekki alone. Even if we are working for the elite alone, both the rich and poor are complaining and suffering under their government.
'They do not fix power problem. They are not bothered about insecurity in the country. They are just generating revenue for themselves. The media asked their leader about the state of the nation. He said everything was okay and that the country had billionaires.
'He said people now own a lot of private jets. They do not remember Lagos residents. But they are coming back to seek your votes. Will you give him? Please, do not give them your votes,' he stated.
Fashola said the Yaya-Abatan road being handed over had seven other connecting inner-city roads, saying that by handing over the road, government was demonstrating access to qualitative transport infrastructure.
'For me, this is the value and meaning of democracy. This is what the tax payers' monies have done for us in the state. We could have waited for the federal government to construct these roads for us. Because we contributed monies through taxes, we can take our destiny in our own hands,' he said.
According to Fashola, democracy, for his government, meant service to the people, saying that 'that is the only way it can be the government of the people by the people and for people. We urge all the residents not to cut this road.
Also, I appeal to all of you not to drop waste inside the drains for your own protection. Please, do not dump refuse in the drains. For those who do not have cars, a road does not serve car owners alone. It also serves pedestrians.
'It is the sidewalks that separate pedestrians and motorists. It is the sidewalks that our children will walk to and from their schools. If you trade on the sidewalks, you force your children to walk on the roads. If you force them on the streets, you endanger them with the motorists.'
The governor said the construction of the road had certainly raised the value of assets in the area and appealed to landlords not to raise their rents, stressing that 'if the landlord increases rents, it will backlash.'
Speaking, Commissioner for Works and Infrastructure, Dr. Kadri Hamzat said the road was conceived under the state's Strategic Inner Road Development Programme, which identified critical high volume traffic bearing roads for upgrade and reconstruction.
He listed Oyemekun Street, Kayode Street, College Road extension and Haruna Street as several access roads connected to Yaya-Abatan Road, saying that the reconstruction efforts commenced in April 2012 when the Phase I, extending from Iju Road end to Haruna Bus stop was awarded to Arab Contractors with a completion date of December 2013.
'Phase II was consequently awarded to the same contractor in April 2013. It extends from Haruna Bus stop to Excellence Hotel Junction. Today, we have a 2.9km dual carriageway with a width of 14.6m. In the course of the construction of this road, we have encountered challenges, especially with establishing the right of way,' he explained.
Hamzat disclosed that over 1,000 jobs were created in the process of constructing the road, urging residents of Lagos to pay their taxes appropriately so that government could build more roads for them.