MADUMERE CONDEMNS VIOLENCE AGAINST CHIBOK GIRLS, OTHERS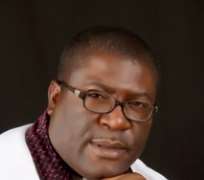 While condemning the act of terror against Nigeria Children, Imo Deputy Governor, Prince Eze Madumere has taken a swipe against those perpetrating such act.
Speaking to select Journalists at the arrival section of Nnamdi Azikiwe International Airport, Abuja, Prince Madumere condemn in totality the abduction of Chibok girls, which he described as an act of wickedness not just against Nigeria children but against the future of Nigeria.
He called for an end to blame game and playing politics with the plight of the innocent girls. He wondered why some mindless unpatriotic politicians should be making inflammatory statements against opposing parties over the plight of innocent children. He called for the release of the names of the sponsors of the dreaded Boko Haram insurgents.
Speaking further, Imo number two citizen called on the security agencies never to relent in their search and effort to recover the girls who he said do not deserve the traumatic experience they are going through. " It is traumatic and most painful to think of what those girls must have been going thorough. Each time I think about it, I develop goose pimples".
The South East Deputy Governor of the Year, Prince Eze Madumere, also used the opportunity to call on Nigeria parents to decease from any act of abuse against their children. He expressed need to educate every Nigerian child. " It is the right of every child to get educated. I call on political leaders to emulate the sacrifices of Owelle Rochas Okorocha in giving free education and take the children off the street".
In the same vein, he called on the well meaning Nigerians to use the children's day celebration on May 27 to reflect on the challenges of the children and how best to tackle them especially the concerns of their future.
Prince Eze Madumere, MFR
Deputy Governor, Imo State