Revealed! Femi Falana, others Escape Death, as Arik Aircraft Crash Lands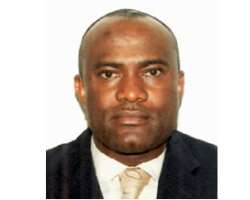 The Nigeria airspace almost witnessed another tragedy last week; radical lawyerFemi Falana and Lagos socialite Rotimi Ajanaku were among prominent Nigerians who were on board that escaped the untimely death, just as Arik aircraft flight No
160 from Abuja crash landed in the local wing of Lagos airport. Huhuonline.com gathered that it could be described as a miracle on how the plane landed without any casualty, surprisingly such a life threatening incident was a newspaper blacked out news.
Huhuonline.com got wind of it via an aviation source saying Nigerians should thank God for the Aviation Ministry once again. A source close to Rotimi Ajanaku a Lagos-based celebrated millionaire said Rotimi occupied 3c seat and was in the company of one of the directors of his company Pastor Segun Oderinde when it happened, the source however narrated Ajanaku's ordeal to huhuonline.com: ''He told us that he just noticed that the aircraft started shaking and cabin pressure had dropped but the most scary aspect was when the plane dropped drastically after losing altitude. He also said initially nobody knew what was going on until the pilot announced that they were embarking on an emergency landing, and that everyone on board were so scared and they all started praying. He said he (Ajanaku) had given up that he though the end has come and likewise many other people on board. Somehow he said they managed to land in Lagos miraculously, how that happened, he said he doesn't know because they had all lost hope since the pilot announced that they are crash landing.''
The airline, huhuonline.com gathered, has refused to make neither public nor individual apology to the passengers. Huhuonline.com paid a visit to GRA Ikeja, office of Femi Falana who was also another passenger on board, but unfortunately he was not around to give his own account as at press time. We tried to talk to the receptionist, one Ms Toyin if she was aware of her boss' experience but she declined to make any comments saying she is not aware and that Mr. Falana is in best position to make comments about such issue.
Meanwhile an aviation source that was also on board but declined to disclose his identity told huhuonline.com on Saturday that: ''I was on the flight and I can tell you it was the most scary episode to have ever happened to me. You know we were just on board and we've been served dinner before it all started. You know normal turbulent is expected but all of a sudden the whole thing went out of hand, as the plane quickly lost altitude. The flight was suppose to leave Abuja 7:10pm but was delayed till 8:20 pm. Right from when we took off, the seat belt sign was on, but that could have been due to bad whether. Only God knows what could have gone wrong, but my brother it was as if judgment day has come for us all. Initially, the pilot did not say anything, but when he said to us that we are crash landing and should follow the instruction of the cabin crew, oxygen mask were already down and the emergency light was on. The mention that we were crash landing by pilot got everyone worried and scared.
''Do you want to know the truth? People were crying, and the cabin crew too were scared of losing their lives. You know they don't have extra life and they were already saying their last prayers. When the plane eventually landed, we all rushed out scared that something drastic was going to happen. Infact some of the passengers did not care about their luggage anymore. If someone has said Arik did not aplologize, yes the person is right they didn't even try to hold people down for a while, and explain, infact no one cared about the apology but their safety.
Huhuonline.com also visited the Airport office of Arik Airline; and met with the receptionist, Joy Nwokoro, who directed us to the Communications officers, Mr Ola Adebanji who says he doubles as the media manager for the airline. We put all the allegations to him and after a deep breath, he said he would start from the issue the delayed flight:
"Yes the flight was delayed and it is normal because there is sometime operational delay. The issue of dropping some heights as the passengers claimed, the aircraft lost some pressure and the passengers were duly informed, that is very right. The pilot of the aircraft was an experienced one, and is not good to keep your passengers in the dark on what is happening. You keep them informed when there is trouble and when there is no trouble particularly to make the passengers enjoy themselves and also to inform them as the flight was progressing. When the problem occurred they were duly informed that they have lost cabin pressure and they called the control security landing which some people might call emergency landing and thank God they landed safely.
''They spent the normal time they were supposed to spend from Abuja to Lagos which is about 55 minutes. Though the aircraft lost cabin pressure, it was within the control of the pilot. On the issue of announcement, it is normal, the pilot is supposed to announce landing and definitely what the pilot must have told them is that they were making emergency landing and must have advised them to prepare for it, I don't understand what kind of apology they are expecting when the pilot had told them what to expect. It was not a crash so what kind of apology are they expecting? At least, there was no injury sustained or what may. When they landed, the cabin crew must have done the right thing by announcing their arrival in Lagos and of course, the normal greetings for choosing Arik airline.''
While huhuonline.com inquired further about the issue of the aircraft suddenly dropping from 23000 ft to 9000 ft he replied and said:
''I am not a pilot and like I aid earlier, I wasn't in the flight. I am not a technical person so I can't tell. It's a different thing if he had not informed them what was going to happen. That is one of the precautions they take as pilots and let me tell you something, we have it record that after that plane finally landed passengers like Femi Falana went to congratulate the pilot with the way he handled the situation.''
However, a lot of aviation stakeholders have berated the actions of the Arik Airline, by not acting proactively and again not making any efforts to apologize to the affected passengers who were under panic measures. As a responsible corporate organisation, Arik Airline was suppose to have acted responsibly by apologizing to the passengers who suffered serious shock and trauma while in the aircraft which was reported to have lost pressure on air.
Just like yesterday (December 10, 2005), tears are still rolling down their cheeks; the families of those who lost their loved ones to the crash are in agony. These are men and women perpetually tormented by pains and distressed by the loss of those they had placed their hopes on. They lost their precious children, husbands and wives on December 10, 2005 to the Sosoliso plane that crashed in Port Harcourt. And, there is no sign that the loved ones who perished will ever return. Sosoliso Flight 1145 left Abuja on that fateful Saturday afternoon for Port Harcourt but did not arrive with its cargo and passengers intact. The plane crashed and 61 students of the Loyola Jesuit College, Abuja, wealthy and influential men and women, who were on board perished just as it made to land at the Port Harcourt International Airport, Omagwa, Rivers State.
In many homes, the pictures of the dead children, their books, projects and excellent results in international and national examinations evoke more pains and misery in the minds of their parents and siblings. It is a situation where the parents continue to fight back tears each time they come in contact with anything that has to do with their 'fallen heroes'.
Most of the parents are yet to come to terms with the trauma that rocked their lives and made them to drift like a poorly directed ship tossed about by a whirlwind. The upset sucked the blood of many and dwindled the fortunes of others, whose only child or most promising person in the family was consumed by the flaming fire that left most of the dead in very poor shape. Till date, many are yet to find the remains of their loved ones who perished in the crash while others made away with bits and pieces to the graveyard for burial just for the sake of having a grave or monument for future references. Moreover, the death of Pastor (Mrs.) Bimbo Odukoya of Fountain Church of Christ who was also on board was another sad story yet to go off memory.
Similarly The memory of Nigerians are still fresh about the death Sultan of Sokoto, Muhammadu Maccido, who was among the 96 people who perished in a plane crash shortly after take-off from the Nigerian capital, Abuja, on Sunday, 29 October 2006. Also in the manifest was Maccido's son, who was a Senator, as well as a young grandson Another Senator was also involved, Senator Yari Gandi and his 2 wives, they all died with the Sultan in the ill-fitted aircraft. Muhammadu Maccido, was a religious leader and succeeded Dasuki in1996 as Sultan of Sokoto.
Once more the authorities in the Nigeria especially the regulatory bodies need to ensure total overall in Nigeria aviation industry, it would be most unfortunate if Nigeria revisit the forgotten evil days in the aviation sector, human lives should not be treated with levity. Sometime in September 14, 2009, Mr. Chris Ndulue was appointed as the Acting Managing Director of Arik Air, Nigeria's largest airline in anticipation to add value to the company but it is shocking to note that this would be happening under his watch without any serious action being taken. This is the time Ndulue the MD and the Chairman of Arik Air, Sir Joseph Arumemi-Johnson, are expected to drive the management of the Airline in a purposeful direction, and in the overall interest of Nigerians and not otherwise.