Sambo inaugurates 100 buses, says commuters will 'greatly rejoice'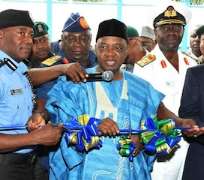 The Federal Government on Tuesday said that its road-map on the transport sector was aimed at tackling the challenges in the economic sector holistically.
Vice-President Namadi Sambo said this in Abuja when he inaugurated 100 high capacity buses, procured by the FCT Administration, under the Subsidy Reinvestment and Empowerment Programme (SURE-P).
According to him, the Jonathan administration sees the transport sector as very crucial to the attainment of economic and social well-being of the people.
'We have reiterated the crucial role of transportation in the promotion of economic and social well-being of our people as one of the key drivers of economic development.
'I am, therefore, very confident that not only would the teeming commuters of the FCT greatly rejoice but it shall be at the disposal of all that ply the FCT roads.
'Worthy of note is the FCT initiative which forms part of the comprehensive Federal Government transportation roadmap designed to address the challenges being faced by the sector.
'The comprehensive roadmap examines the source of attaining such lofty targets through a huge financial investment to be sourced through public sector investment as well as Public-Private-Partnership.
'We intend to tackle the transport sector challenges holistically through the involvement of intra and inter-transport networks to connect Abuja city centre to the rest of the country, using all relevant means of transportation.'
The Vice-President expressed the determination of the government to ensure that Abuja had world class transport network system that would connect the capital city with the rest of the country.
'When completed it will significantly ease the problems of accommodation and transportation in the city as workers would rather choose to live in the satellite towns and commute to work in these improved and efficient mass transit systems.
FCT Minister, Senator Bala Mohammed, said that the buses had state-of-the-art facilities to ensure security and comfort of the passengers.
According to him, the administration plans to procure 200 of such buses, annually, for the next three years and also plans to set up an assembly for the buses in Abuja.