Lost And Found Girls By Boko Haram Generals A Sham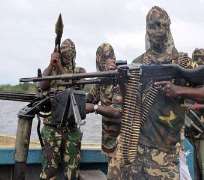 Did General Badeh really believe the Boko Haram Generals that they just found Our Girls? What worked even before international pressure was the confrontation between Joint Chief of Staff and the Defense Minister, Boko Haram General Gusau.
It was a showdown - you know I know you and you know who I am. Boys and girls had been kidnapped even before the girls. Anyone familiar with this writer could have read - Hiding In Plain Sight Inside Boko Haram Mansions.
Some people will certainly claim that it was the pressure from the outside world that forced General Badeh to declare that the girls have been found to save the Army from ridicule. Most Nigerians that suffer at the hands of not only Boko Haram but in the hands of MEND, OPC or MASSOP administering jungle justice to their victims, already know what the world discovered. They are the daily victims of carelessness and indifference by the politicians and their militias.
What is even worse, was the set up of the poor soldiers that were slaughtered by the same Boko Haram General by sending them to where they know the Boko Haram thugs were waiting to ambush; it led to revolt or mutiny and the Boko Haram General took to his heels. They are always negotiating, which was what they wanted all along so that dutiful soldiers will not attack them. For this reason, Gen. Badeh is relaying the message that they will kill the girls if attacked.
Generals negotiating with Boko Haram Generals started as soon as Nigerians protested against the face of Boko Haram General (Ret.) Aliyu Gusau. We know when the Army wanted to go into Odi, they did not send Odi General; when they wanted to go into Zaki Biam, they did not send Zaki Biam General; when they gave shoot on sight order in Lagos and Osun, they did not send General OPC either. So why would anyone send Boko Haram General to Borno Evil Forest?
It is not that we are short of different ethnic groups of soldiers that are competent and capable of getting the job done. Even when it is to our advantage to use the blessing of our diversified ethnic groups, we messed up intentionally and wickedly. In Jos, a Fulani General was sent to put out mayhem caused by Fulani pastoral cattle rearing grabbers knowing full well that we have Generals from other ethnic groups that could be neutral and sensible.
It is still painful that we have what it takes to solve our problem at home but refused to do so with ethnic minorities that can play neutral role in bringing down any insurgency, or better still, the daughters of Aba Rioters in Owerri, Ikot Abasi Calabar and daughters of Queen Amina.
Following a suggestion by Prof. Soyinka; women army should be deployed to tackle Boko Haram menace. Just in time, got reports that a group of these Boko Haram men made a deadly mistake by trying to overpower another group of ladies. Unfortunately, they only met their Nemesis. As some got away a few were subdued and lynched by these Queen Amina daughters at Attagara and Kawuri villages in Gwoza and Bama local government areas of Borno State. See here.
Of course these militias would like to hide under the disguised claim of jungle justice. We must also accept that brutalities occur and claim innocent victims. But the proportion of brutality and callousness of Boko Haram on their people and others must be dealt with. Any negotiation with them must be broken after the girls are released because they will do it again and again.
When militias start challenging constituted Army, we are in trouble. The ride for all these ethnic and religious militias must come to an end. Apart from being a drain on our resources, income, goodwill and innocents victims, they have outlived and overstayed their causes.
If we want to be sincere, the amount of mayhem committed in Jos incessantly will be more horrifying if they gain the same attention as Our Girls. Plateau State has been decimated and reduced to barbaric communities by the same terrorists with no solution in sight. Not because Nigeria cannot solve the problem, but because pressure and world shame has not been brought into the dark carnage going on there.
At the end of the day, no amount of drones from America can capture any Boko Haram General, only the President can point them out for capture. If you are afraid to do it, send them on their usual overseas courses or their annual medical examinations and point them out to those authorities as an association in bed with western countries' arch enemies. You will be surprised, how fast they will end up first in detention at Guantanamo Bay before being questioned later.
Who exactly are we fooling? Africans need to talk to Africans and if an African country behaves badly, other Africans must be able to have heart to heart discussion before other continents get involved. Some of us were displeased that some people booed the President representing the sleepy giant of Africa and other African countries ridiculed us for accepting aids from USA when in fact they had accepted aids too. Again, we missed the point. They looked up to Nigeria.
Some years ago, there were these African American girls on study visit to Nigeria. Actually, in the 80s that many Nigeria look back now and claim that was when Nigeria was good. What a pity and how has the mighty fallen. It was when children born then and these post graduate students saw Nigeria without electricity, water, suffering in the midst of plenty. They wondered aloud that if Nigeria could not save itself, it could not save the rest of the black world.
It cannot be overemphasized that Nigeria has diversified ethnic groups that can be used to its advantage in the Police or the Army. Indeed, it has been so successfully used in the past. On top of all, are the so called minorities spread across the Country. They are well represented in the Armed Forces and can be deployed to any part of the Country. We are not using our strength to even half capacity out of callousness, selfishness and greed for what belongs to others.
Disclaimer:

"The views/contents expressed in this article are the sole responsibility of

Unknown Author

and do not necessarily reflect those of The Nigerian Voice. The Nigerian Voice will not be responsible or liable for any inaccurate or incorrect statements contained in this article."