Human Rights Report: Chibok Girls: Islamic Teachers, Principal, Governor Of Borno State, Borno State Commissioner Of Police And Goc Of 7 Mechanized Division Maiduguri Connived With Boko Haram For The Deal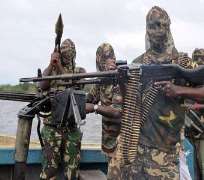 It is no longer news that the escapees of Chibok bokoharam kidnap opened a can of worms that some of their Muslim teachers were among the kidnappers. They also stated that the Principal of the School looked them up and refused them to go home.
It is also obvious that the Governor of Borno State refused to allow them take the exam in Maduguri for security reasons.
It is also on record that GOC 7 Mechanized Division was shot by his subjects for complicity in the loss of soldiers to bokoharam.
These 4 categories of people: the Governor, GOC commander, Principal and teachers, all in high positions of authority to protect students sold out to bokoharam, connived with bokoharam to kidnap Chibok girls. That explains also why IBB used his position to smuggle Nigeria into OIC. That explains also why Abaduisalam Abubakar used his position to put sharia into 1999 Constitution. islamic is lawlessness and has nothing to do with democracy. FULL emergency should be declared in the 4 states of Borno, Yobe, Adamawa and Bauchi.
Comrade Kindness Innocent Jonah is a seasoned Human Rights Activist and an unbiased National Commentator. Visit the website of the Human Right Group: KOMKEEP: Right of man keep at www.romkeep.blogspot.com. Also visit these facebook sites: Kindness Innocent Jonah. Read his write-ups also in: the [email protected] Please visit his site. +234-803-6662-901, +234-809-5957-698
Disclaimer:

"The views/contents expressed in this article are the sole responsibility of

Kindness Innocent Jonah

and do not necessarily reflect those of The Nigerian Voice. The Nigerian Voice will not be responsible or liable for any inaccurate or incorrect statements contained in this article."
Articles by Kindness Innocent Jonah