Otedola's Burial Rites Begin Tomorrow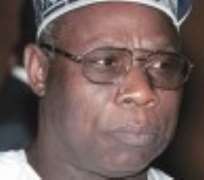 The funeral rites for the late former governor of Lagos State, Sir Michael Otedola, will begin tomorrow with 'A Day Of Tributes' organised by the Lagos State Government, western Nigeria.
The event scheduled to take place at the Onikan Stadium at 10am, is expected to attract a large crowd, including eminent personalities within and outside government.
Otedole died on Monday, 6 May, 2014 at the age of 88.
On Thursday, his remains will be taken round Odoragusin, his birth place in Epe, Lagos, during which there will be music and dancing before the lying in state at his compound.
There will also be a Christian wake at his compound same day.
There will be funeral rites/mass on Friday at the Immaculate Conception Catholic Church, Ibowon at 11am, followed by interment at the Catholic Church, Odoragusin.
After the burial, King Sunny Ade and Haruna Ishola are expected to entertain guests at the reception at St. Patrick Grammar School, Eredo, Epe, Lagos