Boko Haram: Borno Community Petitions President Jonathan, IGP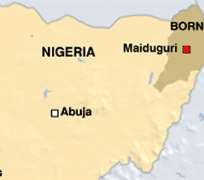 …Wants National Mobile Training School Relocated
SAN FRANCISCO, May 26, (THEWILL) â€' For abandoning them to their fate in the face of incessant Boko Haram attacks, the Limankara border community in Borno State, Monday, sent a passionate appeal to President Goodluck Jonathan and the Inspector General of Police (IGP), Mohammed Abubakar, to sanction the Commandant, National Mobile Training School, Limankara.
Accusing the Commandant of failing to provide protection to the community, especially during recent attacks by Boko Haram gunmen, the community, in a petition sent to the President and the IGP, also called for the relocation of the Mobile Training School from the area.
In the petition signed by the District Head, Alhaji Abdulkareem Wahab, Ward Head of Limankara, Mr. Zephaniah Tada and three other representatives of the community, John Mark Hodo, James Dauda Chihwa, and Aliyu Usman Kutho, the community alleged that during the attacks, the Commandant of the National Mobile Training School failed to come to their assistance in repelling the terrorists.
Alleging that the Commandant may have connived with the insurgents to wreak havoc on the community, they said many villagers were killed while property worth millions of Naira were also destroyed during the attacks which lasted four hours.
Maintaining that the loss could have been higher but for the intervention of soldiers neighbouring Adamawa State who came to their rescue.
According to the petition: 'The Boko Haram gunmen stormed our village through the Sambisa Forest en-route through Jaje road that links National Mobile Training School. They operated from 1am to 5am on Saturday, and destroyed several houses, vehicles and our local Church near the District Head's residence, and went back into the forest unhurt. If soldiers from Adamawa state did not intervene, the insurgents could have killed many of us.
'We don't know whether the commandant is working with Boko Haram or protecting lives and property of Nigerians in Borno state.
'The gunmen came into the village through the training school, and went back through the same route, while 200 mobile policemen are in the school premises. The commandant directed the policemen not to ambush the insurgents, as they did not come to attack the school or its students.
'When the community is in distress or fears, the police are supposed to protect us, just like when the school was in need of any help or assistance from members of this community. This Mobile Training School had been in existence for 32 years in Limankara, but the Commander had been assisting Boko Haram; it is necessary for the policemen to leave us alone without the school.'