How Obasanjo Yabbed Me On My First Encounter With Him - Ali Baba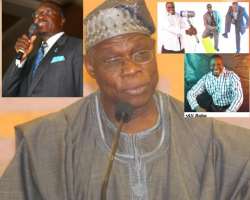 Akporomemerere Atunyota popularly known as Ali Baba is naturally gifted. With twenty years experience in the stand-up comedy industry, the Delta State-born, father of five, has become a role model to many young Nigerians. He is also regarded as the King of comedy. TOPE OLUKOLE had a chat with him. Excerpts:
THE celebration of your 20th anniversary on stage is on the way, how do you intend to celebrate it?
I'm working on it; part of the celebration is to give back to the society, appreciating the media for their support over the years and also doing something for the people who have helped me in one way or the other in the course of my career.
When is the programme of the anniversary commencing?
Very soon, but right now, I'm working closely with my publicist and as soon as all is set, you will get to know about the venue and the date for each of the programmes. But the charity thing will not be mentioned because I'm not doing it to impress people. The society has been good to me and it is right for me to give back to it.
Is it true that you are retiring from comedy?
That's a rumour, this year is my 20th year as a professional comedian. I would have retired before now as a stand-up comedian and continued as an MC, but I want to make sure that the upcoming comedians have something to hold on to, I'm working on an association for the comedy industry. Though people may think I have retired because I've stopped performing at many shows, I do more of corporate and state shows and at events that befit my status. There is need to leave events that are not A-list for the younger ones so that they too can grow in the business and have income.
Tell us more about the association.
The name of the association is called Comedians of the Federal Republic of Nigeria (CFRN). Myself and some of the A-list comedians are working on it, we want to go beyond the era of local comedy.
How can one become a member of the association?
For you to be a member, you must have the talent, it is not going to be an all-comers affair, we are going to lay down rules and set standards. Inasmuch as we need to put down rules to follow, we also need to defend them when the need arises. On a regular basis, there will be seminars and workshops to enhance our members' creativity.
How did you come about the title, King of comedy?
I did not at any point say I'm the king of Nigerian comedy industry, people came up with that name because of my outstanding talent. By the grace of God, over the years, one has been able to set a high standard for others to follow. Late Mohammed Danjuma and my humble self set the pace for stand-up comedy, way back then, when we started, we had no followers, but now there are several up-coming comedians.
How have you been able to maintain your rating over the years?
It's God, creativity and originality. Any comedian who depends on old glory will find no place in the industry. The industry is not as it used to be, you cannot crack a joke for as long as you want. So, I try as much as possible to step up the game all the time, I read a lot and I write as well, so the inspiration just keep coming. There are many jokes that can be traced to me or late Mohammed Danjuma.
Tell us about your love for books and photography?
Yes, the Bible says "my people perish because of lack of knowledge," if you want to remain in this profession, you have to be reading regularly, it's not only in the comedy business alone, the same goes for every other profession. In my library, I have books on comedy, philosophy, geography, literature, biography, religion and DVDs of several great comedians around the world. So, aside inspiration from heaven, those represent my engine room. Photography, for me, is an extension of my creativity, I see beyond the pictures. I'm deeply into photography and I have invested in it. But first and foremost, I was encouraged by two professionals, Don Barber and Sunmi Smart-Cole.
How did you get those old books in your library?
Some are from my father's library while I bought others. I try as much as possible to get the original so that I don't encourage piracy.
Having spent 20 years in the game, would you say you are fulfilled?
I can say yes, because now, comedy has become something everybody wants to do. When we started, people looked down on us but now the story has changed completely. I have people who look up to me as their role model, that alone is a fulfilment, that means, there are people in whose lives I have impacted positively.
Are you financially fulfilled?
All glory to God, but I'm still working to make more money. If the richest man in the world can still be working, who am I?
At what time did you introduce professionalism into the business?
I started carving a niche for myself in 1993. Then, I was able to identify which area of the economy I would pitch my tent and I discovered that the corporate world pays more.
You don't do regular shows like other comedians, is this deliberate?
Yes and it's deliberate. I have comedians as subordinates who need to do shows for relevance, to upgrade their acts, and also, I don't want to do a show that is not A-class. It's not as if I don't do shows, I do comedy shows, sometimes after two years and sometimes three years. If it's regular, it will look as if I'm competing with them. So, what I do is to call all the comedians and inform them in advance that I'm having a show in the next two years.
You have become a friend of the creme de la creme of the society, how did you do it?
It's God. Over the years, when I'm on stage, the first thing that comes to my mind is that, "Ali, you have to deliver the best." I have been able to win more "souls" to my side and it's paying off and not only that, I have been able to develop personal relationship with some of these people. So, when I see them at events, I feel at home, people like former President Olusegun Obasanjo, former governors of Lagos and Ogun States, Bola Tinubu and Olusegun Osoba, President Umar Yar'Adua, Honourable Dimeji Bankole, Donald Duke, among other distinguished Nigerians.
Tell us about your relationship with the former President Olusegun Obasanjo.
I was introduced to Baba by his good friend, Chief Bode George. He took me to the Villa in 1999. You can't believe it, that Baba yabbed me on my first encounter with him. After I was introduced to him, I started cracking jokes, after a few minutes, he had warmed up. He yabbed me and I said to myself, if Baba could yab me, knowing that I'm a comedian, I could not hold myself, I responded, and that was how we became friends.
Did the relationship pay off?
Yes, while he was in power, I got several calls to perform because it became public knowledge that Baba was comfortable with my jokes. There was a time he visited Kaduna and the condition he gave them to sleep over was if they got me to perform at a dinner they organised for him. I was contacted, I performed and after the event he called me and jokingly asked for his share of the deal. That is Baba for you. One other thing people don't know is that some of the jokes I tell about him, I would tell him those things before I go on stage.
Aside comedy, what other professions would you have loved to practise?
I would have been a pastor, a musician, broadcaster, an advertising practitioner or a PR person.
Are you going to retire after the 20th anniversary?
I have that in mind, but unfortunately the stock market crashed not long ago and recession came in. Retirement will come later as it is, unless I become deaf and dumb or God takes his talent.
What is happening to XQZ MOI, your event centre?
The place was bubbling until Lagos State started fixing the Toll Gates and that has affected the place with about 10 feet. As soon as they are through, we will be back to work.
Tell us more about yourself as a father, comedian and husband?
My children don't see me as someone that is working; anytime I tell them I'm going to work and hours later I'm back, they keep asking me "what type of work is that?" As a father, I give them the best of everything. As a husband, thank God, I married a wonderful woman, Mary; she is a great money manager and sees beyond me when we are talking of how to make money, even up to the point of, supposing the money is not coming anymore. She understands me more than any other person.
What is the future of stand-up comedy?
Very, very bright.
Story by nollywoodgists.com