I SUPPORT MUAMMAR GADDAFI - AMERICA AND EUROPEAN UNION SAID SAME THING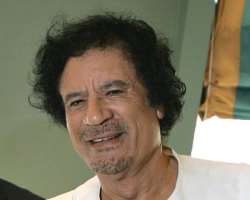 FOLKS,

THE IS NO NEED IGNORING THIS MESSAGE FROM PRESIDENT MUAMMAR GADDAFI OF LIBYA, BECAUSE THE UNITED STATES GOVERNEMTN HAVE SAID IT AND EUROPEAN UNION HAVE SAID IT, AND WE DID NOT DO ANYTHING TO THEM THAT NIGERIA WILL BREAK-UP. IS IT BECAUSE GADDAFI IS AN ARAB AND A MINORITY POWER?
NIGERIA IS NOT A SERIOUS COUNTRY AND IT DOES NOT HAVE SERIOUS LEADERSHIP AND THIS CAN NOT CONTINUE, BECAUSE NIGERIA CAN NEVER WORK. IT WILL NOT HAPPEN.
WHY ARE WE THEN INSULTING AND CURSING MUAMMAR GADDAFI FOR THE SAME THING AMERICAN GOVERNMENT AND EUROPEAN GOVERNMENT HAVE SAID MANY TIMES.
NIGERIANS ARE HYPOCRITES PRETENDING LIKE EVERYTHING IS FINE ALL OF A SUDDEN. LIKE IT IS A HAPPY COUNTRY, NO IT IS NOT.
LET US NOW AS HONEST NIGERIANS (EVERYBODY, EVERY TRIBE AND EVERY RELIGION) SEAT DOWN AND DIVIDE THIS COUNTRY PEACEFULLY BECAUSE THIS COUNTRY CAN NEVER WORK. LETS BE HONEST TO OUR SELVES.
TIME LINE TO NIGERIA BREAK UP FROM INTELLIGENT REPORTS
(1) AMERICAN GOVERNMENT CIA SAID IT WILL HAPPEN WITHIN 15 YEARS
(2) EUROPEAN GOVERNMENT HAVE SAID IT UNLESS NIGERIA UNDERGOES URGENT RESTRUCTURING
(3) SECRETARY OF STATE HILLARY CLINTON HAVE SAID IT
(4) COLLIN POWER HAVE SAID IT

(5) SAUDI ARABIA HAVE AGREED TO IT BECAUSE WITHIN THE THREE (3) MONTH PRESIDENT YARADUA WAS IN SAUDI ARABIA, IT GAVE THE SAUDI ARABIAN GOVERNMENT TIME TO REALLY STUDY AND LEARNED A LOT ABOUT NIGERIA AND ONCE THE FOUND OUT THAT IT IS A USELESS COUNTRY THAT CANNOT HOLD, THEY KICKED PRESIDENT YARADUA AND HIS WIFE TURAI OUT OF THEIR COUNTRY.
(6) ARAB LEAGUE JUST HAD THEIR MEETING AND THE REALITY THAT NIGERIA CANNOT HOLD BECAME OBVIOUS TO ALL OF THE ARAB WORLD LEADERS AT THE MEETING.
(7) MUAMMAR GADDAFI THE( INFANT TERRIBLE) OPENED UP TO REALITY OF WHAT WAS UNDER THE TABLE AND IN THEIR SECRET MEETINGS.
Disclaimer:

"The views/contents expressed in this article are the sole responsibility of the author(s) and do not necessarily reflect those of The Nigerian Voice. The Nigerian Voice will not be responsible or liable for any inaccurate or incorrect statements contained in this article."