Hinduja Group And Stallion Announce Major Partnership In Nigeria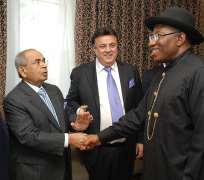 Hinduja Group, the globally renowned business house has entered into a strategic partnership with the multibillion regional conglomerate Stallion Group for a wide range of activities in Nigeria and sub Saharan Africa.
The Hinduja Group is promoted by India's richest Hinduja family, engaged in diversified activities including Automotive, Oil and Gas, Power and Healthcare. The Stallion Group is an international conglomerate with a presence in 18 countries engaged in agriculture, commodities, vehicle manufacturing, steel manufacturing, plastics, packaging, food products, real estate and other large scale industries.
Stallion is already manufacturing Hinduja's Ashok Leyland range of buses and trucks in Nigeria that are plying successfully on Nigerian roads. The partners intend to expand their model range from presently four to a full range of twelve models.
Notable additions include Ashok Leyland's new models like Captain, Dost, Boss, Partner and several others. These models shall be manufactured for the Nigerian market at Stallion's ultra modern industry in Lagos. The industry will also manufacture military and defence products including the 'Stallion' which is the largest military vehicle used by the Indian Army.
The partnership was finalized in Davos, on the sidelines of the World Economic Forum by Hinduja Group's Co Chairman G P Hinduja and Stallion Group's Chairman Sunil Vaswani.
Present with his delegation at the World Economic Forum, Nigerian President Jonathan reiterated his determination to push ahead with the new Automotive policy. Jonathan was hopeful that significant investments would flow into the Auto industry in Nigeria, pursuant to the progressive policy initiatives.
The announcement of the Hinduja-Stallion partnership seems to be a timely investment that will act as a major catalyst for the success of the new policy.