Hyundai Motor Company Partners With Stallion Group To Manufacture Vehicles In Nigeria
Association Will See Hyundai Passenger And Commercial Vehicles Produced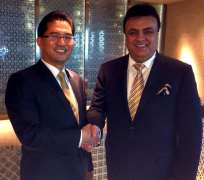 Hyundai Motor Company, one the world's foremost vehicle manufacturers has associated with regional conglomerate Stallion Group to manufacture Hyundai passenger and commercial vehicles in Nigeria from April 2014.
Hyundai Motors Nigeria Ltd - a division of Stallion Group - already represents Hyundai's range of passenger and commercial vehicles in Nigeria, and operates an ultra modern vehicle assembly plant in Lagos, Nigeria.
Hyundai's foray into this critical sub-Saharan market follows the announcement of a new auto policy in Nigeria, which is intended to spark a major advancement of the country's automotive industry, and see it emerge as a key regional player.
An impressive range of Hyundai passenger models including the i10, i10 Grand, i10 Grand Sedan, ix35 SUV and the Elantra will be assembled in Nigeria by Stallion at its world class facilities from April 2014. With regards to the Korean manufacturer's commercial segment offering, assembly of models including the Hyundai County Bus and the Mighty Truck has already started.
Vice President of Hyundai Africa and Middle East Headquarters, Tom Lee, comments: 'This agreement with Stallion Group represents a major step forward for Hyundai Motor Company's expansion in to Africa, and our ability to cater to the needs of customers, not only in Nigeria, but around the country as a whole. The Stallion Group has a rich heritage and a reputation for quality when it comes to its automotive offering - something that mirrors Hyundai's brand values - and we are looking forward to a long and successful relationship.'
Commenting on the announcement, Sunil Vaswani, Chairman of Stallion Group said 'We are pleased to have tied up with Hyundai which is amongst the world leaders in automotive industry. Stallion is sincerely committed to investing in the industry, aligning well with Nigeria's policy initiatives and socio-economic objectives. Hyundai's entry at this stage will be a critical catalyst to develop the auto industry eco system, complementing the other prime brands we are associated with'