Change Conference Is All About Changing Ministers' Orientation—Israel Jonah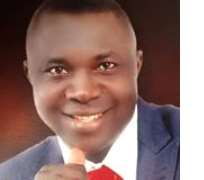 Pastor Israel Jonah is the General Overseer of the Wordfeast Ministries International, aka a life changing church committed to bring live to men and the founder of the Change Conference, a forum where ministers are taught spiritually and creatively on how to run effective ministry without stress and Wounded Soldiers Convention.
He has travelled far and wide ministering the undiluted word of God with a special calling of raising young people for Christ. His Ministers' conference remains the best in Ajegunle and Nigeria. He is one of the humblest ministers of God in this generation of young ministers in Nigeria. He is married to a great woman of God, Pastor Inem Israel and the President of the Zenith Women Apostolic Gathering and CEO of Sharin Enterprise Limited.
Excerpts:
Can we meet you sir?
I am Pastor Israel Jonah and the General Overseer of the Wordfeast Ministries International and the founder of Change Conference.
What motivated you to start Change Conference in Ajegunle instead of highbrow areas like VGC and others?
Ajegunle is my area of calling not VGC. I started Change Conference with passion in 2004 and we just marked 10years of Change Conference in this 2014 edition. I discovered that we ministers in Ajegunle are relegated to the background whereas we have good preachers here and only few are exposed to ministerial training like this, so I decided to come out with this noble forum in Ajegunle.I needed a platform for young ministers to be trained on how to run effective ministry.
We have great pastors extremely doing well but not recognized internationally. Outsiders see Ajegunle people as chronic failures but with this Change Conference that God gave to me, I discovered that something must be done to change the mindset of Ajegunle ministers. Change Conference is a capital intensive programme.
We don't gain financially but ministers and guests are blessed till date. We have had various testimonies from this conference over the years. The conference is geared towards the mobilization of God's end time messengers. Our major objective is to sensitize, equip and most importantly encourage the minister to do the work of the ministry and edify the body of Christ. We also invite guest speakers outside Ajegunle in Change Conference to listen to our Ajegunle speakers before we welcomed them to the altar.
What is the vision of Wordfeast Ministries International?
Wordfeast is set to raise a generation of God chasers and with the mandate of bringing life to men.
You said Change Conference is capital intensive, what did you mean?
Putting the programme together is not a child's play. We want the best in this progamme. Wordfeast is one family that understands the nitty-gritty of ministry. We teach members here how to be humble to God not man. We also take care of ministers too. Since will commence this 10th edition, we have been sleeping here over one month to make sure the programme is successful. I have good members that see my vision as theirs.
Change Conference is gradually gaining international recognition; can you say God has been faithful to you?
God is faithful to me. Change Conference is being aired on a notable Christian television station in Nigeria. It was one of the guest speakers that came to this 2014 Change Conference that saw what God is using Ajegunle pastors to do, that gave me that divine connection to be shown on air.
He is one of the renowned professors in Nigeria. I did not pay any money to be aired than the favor of God in Wordfeast Ministries International and Change Conference. It is also a divine platform to showcase God-Generals in ministerial works.
Since you started this noble Change Conference, can you say any of your guests have been fully impacted?

Many pastors have been fully impacted in one way or the other. Many young pastors have testified the goodness of this great Change Conference in their lives. Ajegunle is a city of ministers of creativity. Change Conference is going somewhere, so I would not like to blow my own trumpet. Even guest speakers have been fully impacted. Our conference has able to touch lives positively in ministerial assignments.
You can see that our Change Conference topics this year are very powerful. Topics like The mystery of Godliness, Redemptive revelation, Chaos management, Challenge of the 21st century, Provision for the vision, The revelation of the name Jesus, The minister and his faith, Embracing change, Branding ministry for excellence, Complete pastor's wife and Running an outstanding ministry. Last year topics were the Emergence of sons, Branding ministry for excellence, contradictions in ministry, Activating the Grace for ministry, Giving minister, Complete Pastor's wife, The praying minister, The place of youth in ministries, The minister as a leader and the minister and the man.
What is the difference between last year guest speakers and this year own?
Well, there is no difference. All the guest speakers are good. We invited guest speakers based on their callings and nothing more. This year, we decided to put all our guest speakers into our booklet unlike last year where we only put few guest speakers in the booklet and our printing works also improved too this year.
What is your advice for those that always attending Change Conference every year and where does you see Change Conference in the next five years to come?
They should impact their immediate environment. They should see Change Conference as a training ground for both young and old ministers of God to excel in their ministerial callings. Only God will decide the fate of Change conference in the next five years to come not me.