US deploys 80 troops to help search for Nigeria's abducted girls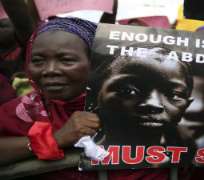 A woman holds a sign during a protest demanding the release of abducted secondary school girls from the remote village of Chibok, in Lagos.(REUTERS)
United States President Barack Obama has deployed 80 US troops to Chad, West Africa, to help search for the kidnapped Nigerian schoolgirls.
Obama says the military personnel will assist with surveillance, intelligence and reconnaissance aircraft for missions in northern Nigeria and surrounding areas.
Nigeria closed government schools on Thursday as teachers took to the streets, protesting against the abductions.
'This is a national directive from the NUT (Nigeria Union of Teachers) headquarters to actually sensitize the public and the education friends on the abduction of over 200 girls,' says NUT's Adesegun Ganir.
One of the teachers, Ola Hamzat Oladele, says: 'I think there is need for us, even if we have 100 sheep, and one is lost, there is need for you to seek for the one and bring them back to the fold.'
Another protest erupted in the capital of Abuja as Nigerians are calling for an end to violence in the north.
There are also questions over Nigeria's security after yet another attack on a village close to where the girls were kidnapped.
'Can you tell me the reason why the same Chibok, the same Chibok that the whole world is mentioning, the name as a result of abduction of two hundred and seventy something girls, yet they are experiencing another attack, and you tell me there is a state of emergency?' asks one of the protesters, Ibrahim Garba Wala.
Earlier on Thursday, 230 candles were lit as pressure mounts for the safe return of the kidnapped girls.
Meanwhile, scores of school kids from schools around Pretoria held a prayer session outside the Nigerian High Commission to demand the release of abducted girls.
The prayer forms part of the ANC Women's League's continued support for the global 'Bring Back Our Girls' campaign.
The ANC Women's League has vowed to continue their campaign till all the girls are returned. The league also lambasted Boko Haram for targeting school kids, calling them cowards.
'We are here to say bring back our children, bring back our girls,' says Lulu Xigwana, Minister for Women, Children and People with Disabilities.
'We cannot accept the fact that these children are held in captivity, are imprisoned under conditions that are inhumane.'
The South African Council of Churches will on Friday hold a prayer meeting, aimed at reflecting on the plight of the kidnapped girls.