FG grants Confab four weeks extension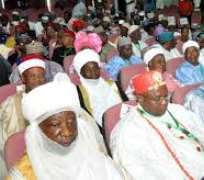 The Federal Government has extended the tenure of the National Conference by for weeks four weeks two weeks short of the six weeks earlier sought by the conference.
The conference had requested for six weeks extension to enable delegates to conclude their assigned deliberations.
The Chairman of the conference, Justice Idris Kutigi, on Thursday announced that after a meeting with the Secretary to the Government of the Federation, Senator Anyim Pius Anyim, the Federal Government agreed to grant the conference more four weeks.
By this extension, the conference will now come to an end on July 17, 20014 instead of the earlier June date.
To make up for the two weeks that was not granted, the conference secretariat suggested that Saturdays and Sundays should form sitting days of the conference.
Most members rejected the suggestion and instead suggested that two hours of lunch time should be reduced to one hour.
The secretariat opposed one hour lunch time on the ground that the two hour lunch time is used by the secretariat to prepare minutes of proceedings of the conference.
To gain time, the delegates resolved that starting from May 26, sitting will commence by 9 am and end by 6pm.
8
INEC begins distribution of permanent voter cards in 10 states Friday
8
8
The Independent National Electoral Commission (INEC) will on Friday commence the distribution of the Permanent Voter Cards (PVCs) in 10 states, the commission said in a statement on Thursday.
In the statement d by the Chief Press Secretary to the Chairman, Mr. Kayode Idowu, the electoral body said it would be distributing the PVCs in three phases, with Gombe, Zamfara, Kebbi, Benue, Kogi, Abia, Enugu, Akwa-Ibom and Bayelsa in the first phase.
The distribution of PVCs will last till Sunday, 25th May, 2014.
The statement said, registered voters in the listed states are to visit the polling unit where they previously registered in order to ascertain their registration status.
It assured that 'Persons whose data have been appropriately captured will be handed their PVCs at the polling units in accordance with set procedures.'
INEC explained that 'there will be a display of the valid Register of Voters at the polling units where the PVCs will be distributed.'
It is, thus, important for every voter to visit his/her polling unit from Friday, 23rd May to Sunday, 25th May, 2014, to ascertain his/her registration status; contrary to suggestions that persons in so-called 'zero polling units' need not show up,' the Commission added.
INEC particularly urged those whose names did not appear to  re-present themselves for registration during the CVR, to have their status regularised.
Those with defective data, INEC said will have the opportunity to re-register during the Continuous Voter Registration (CVR) that holds from Wednesday, 28th May, 2014, to Sunday, 1st June, 2014.