Fear of Arrest Keeps El-Rufai, Ribadu Abroad As Jonathan Considers Amnesty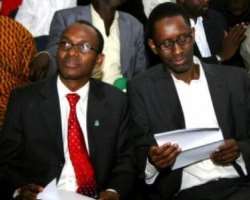 PHOTO: L-R: NASIR EL-RUFAI WITH NUHU RIBADU.
San Francisco march 19, (THEWILL) – The duo of Nasir El-Rufai and Nuhu Ribadu were set to return to Nigeria a few days ago but shelved their plans when they received reports from emissaries that security operatives would arrest them when they set foot on the shores of the Nigeria, a source familiar with the development told THEWILL.
THEWILL gathered that the former top government officials who are being prosecuted for various 'offences' allegedly committed while they were heads of their various government departments during the Olusegun Obasanjo presidency had through emissaries approached top heads of security including the Inspector General of Police Ogbonnaya Onovo and the Chairman of the Economic and Financial Crimes Commission (EFCC), Mrs. Farida Waziri to get assurances they would not be detained on arrival at the nation's airport.
Regretably, the emissaries were unsuccessful in obtaining the necessary guarantees to facilitate their easy return because the heads of government enforcement agencies insisted on executing warrants of arrest already in place for the duo.
"Some friends of Nasiru and Nuhu visited the IG and Farida Waziri recently to seek their cooperation so that they will not be arrested when they return, but the IG and Farida turned down their request and insisted on enforcing their warrants of arrest," the source said.
Nuhu Ribadu, the pioneer chairman of the EFCC was axed from the job under curious circumstances by President Yar'Adua for various reasons including the arrest and prosecution of former Delta State governor, Chief James Ibori on charges of corruption and his (Nuhu) opposition to the emergence of Yar'Adua as president in 2007. Ribadu had allegedly written uncomplimentary reports on then Governor Yar'Adua to Obasanjo hoping to his preferred choice, Nasir El-Rufai nominated president.
His removal from the agency, demotion in rank at the Police Force, eventual dismissal and a questionable prosecution for not declaring his assets while he served as chairman of the anti-graft agency, made President Yar'Adua very unpopular amongst many Nigerians and the international community.
The former Chairman's refusal to appear before the now retired Justice Constance Momoh led court earned him a warrant of arrest.
El-Rufai, a former Minister of the Federal Capital Territory, FCT, is also being prosecuted for various offences allegedly committed during his tenure as Minister. Like Ribadu, he saw his arraignment as persecution for his often-critical remarks of Yar'Adua's style of governance.
Known for their loyalty to Obasanjo, Ribadu and El-rufai are currently lobbying to be appointed into Goodluck Jonathan's new cabinet, which is due to be announced as early as next week Tuesday. How that would play out is still uncertain but a source at the Presidency who would rather not be named told THEWILL that Nigerian Acting President, Dr. Goodluck Jonathan is favourably disposed to having all politicians in exile back to the country with all charges against them dropped.