Secret Evidence Finally Aired In Al Jazeera English Trial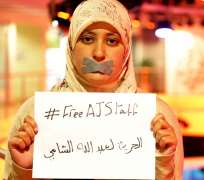 The evidence hitherto withheld by the Egyptian prosecutor in the trial of the three Al Jazeera English journalists has finally been aired in court.
The prosecutor had previously tried to charge the defence $170,000 to access it, but they were forced to exhibit the supposedly incriminating material at today's hearing.
The result was more bizarre scenes in court though. Among the items shown to the judge and the court were BBC podcasts and a song by Australian artist Goyte.
Under cross-examination, the official said to have put together the evidence admitted that a clearly edited photo of Mohammed Fahmy, which was put on the court's big screen by the prosecution, was not something he had seen before.
Al Jazeera spokesperson Osama Saeed said, 'The charges against our journalists are absurd; there is not a shred of evidence against them. The whole world can see that and we look forward to the day, hopefully very soon, when they will be free and back doing the jobs they have always carried out with the utmost of integrity.'
The trial was adjourned till 1 June 2014. Peter Greste, Baher Mohammed and Mohammed Fahmy have been held in captivity since 29 December 2013. Abdullah Elshamy of Al Jazeera Arabic has been held even longer, since 14 August 2013.
For more information, visit http://www.aljazeera.com/indepth/spotlight/freeajstaff/.
Speak out:
#SaveAbdullah
#FreeAJStaff