CBN: N200b DMO bonds for agric funding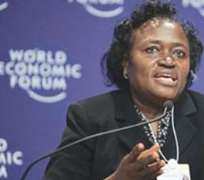 The Central Bank of Nigeria (CBN) announced Wednesday that Commercial Agriculture Credit Scheme (CACS) will be funded through a N200 billion bond to be instituted by the Debt Management Office (DMO).
According to the guidelines for the CACS operation released yesterday,
The bank said it would be collaborating with the Federal Government, represented by the Federal Ministry of Agriculture and Rural Development (FMARD), in the establishment of the CACS, for promoting commercial agricultural enterprises in Nigeria.
The CBN made the announcement via guidelines for the CACs released on Wednesday.
According to the guideline, this a a sub-component of the Federal Government's Commercial Agriculture Development Programme (CADP).
The bank further stated that the e N200 billion would complement other special initiatives of the CBN in providing concessionary funding for agriculture such as the Agricultural Credit Guarantee Scheme (ACGS) which is mostly for small scale farmers, Interest Draw-back scheme, Agricultural Credit Support Scheme, among others.
It said: 'The scheme shall be financed from the proceeds of the N200 billion three-year bond raised by the Debt Management Office (DMO). The fund shall be made available to the participating bank(s) to finance commercial agricultural enterprises.
'In addition, each state government could borrow up to N1.0billion for on-lending to farmers' cooperative societies and other areas of agricultural development provided such initiatives/interventions are in line with the objectives of CACS.'
The CBN added that the scheme was meant to fast track development of the agricultural sector of the economy by providing credit facilities to commercial agricultural enterprises at a single digit interest rate.
It is also expected to enhance national food security by increasing food supply and effecting lower agricultural produce and product prices. This, it said,   will promote low food inflation as well as reduce the cost of credit in agricultural production to enable farmers explore the potentials of the sector.
It will also increase output, generate employment, diversify the revenue base, increase foreign exchange earnings and provide input for the industrial sector on a sustainable basis.
The scheme shall be under the management of the CBN through the Board of Directors and the Committee of Governors while the Committee of Governors shall be responsible for the overall administration of the Scheme while the day-to-day implementation of the Scheme shall lie with the Development Finance Department.