Picture Sparks Quarrel Between Seyishay, Fan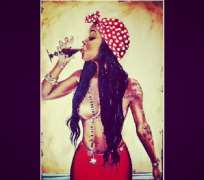 Seyishay is often said to be in the shadows of Tiwa Savage, but when an artiste has a profile like that of Seyishay, it's hard to stay in the shadow of anyone.
Last Saturday, the music artiste posted a picture on her Instagram page which sparked a quarrel between her and her fan. This was after the fan accused Seyishay for trying to be like international artiste, Rihanna, fondly called Riri, which forced a response from Seyishay. She even went further to insult the fan over the matter.
'Guy, b truthful, u can't be Riri. She's not African. Show some decency l8r wen u clock 35 n not yet married ud begin to run afta peoples hubby and end up bin an old jag*hiss,' the fan wrote SheyiShay.
In her response, the artiste asked, 'R u retarded? Does this painting look like me? If so gr8! But it's not me, it's a beautiful painting that stood out to me. Painted by a wonderfully talented hand! #admiregoodart #donthate Hiss!'
One of her fans wrote, 'look and verify before you make any statement in public... You sadly just made a fool of yourself!' while another said, 'Hiaaaaan! Na personal beef? Y so angry? Take a chill pill @cyz_space dat person in d pic doesnt even look like her. Stop being a sourpuss, u'll make err1 fink u're insecure.' But the fan later apologized by writing, 'Omg pls I'm so sorry pls.'
© 2014 Nollywoodgists.com
Click the link below to go to...
Comedienne Princess Accuses Bloggers For Her Marriage Crash
How I Felt Kissing Kenneth Okonkwo ––Actress Chizzy Alichi
Nkiru Sylvanus Lobby's For State House Of Assembly Job In Abia State
Ghanaian Musician Diamond Appiah Diss Iyanya [Video]
Nollywood Actor Charles Waren Died Same Day As Popular Comic Actor, Shehu Jibril
Famous Comedian, Shehu Jibril Is Dead
Another Nollywood Icon Ijeoma Okori Dies During Child Birth