Sanusi: Court transfers case to industrial court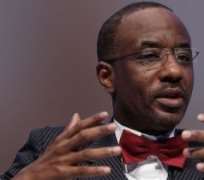 The Federal High Court sitting before Justice Gabriel Kolawole, on Tuesday, transferred the case involving the suspended governor of the Central Bank of Nigeria,(CBN), Sanusi Lamido Sanusi, to the National Industrial Court for adjudication on the ground that it had no jurisdiction to entertain the suit filed by the suspended CBN boss.
The trial judge, Justice Kolawole, in a four-hour ruling he delivered held that Sanusi's suit was labour- related.
According to the judge, the Central Bank of Nigeria was a creation of the National Assembly and that, it was an agency of the Federal Government.
He said in line with section 251 of the 1999 Constitution of the Federal Republic of Nigeria, as amended, Sanusi, by inference was an agent of the Federal Government.
The court also held that Sanusi had no cause of action against the Inspector General of Police (IGP), M.D Abubakar, who was also joined as defendant in the matter and consequently dropped the name of the IGP's from the suit, following his request through his lawyer, Solomon Umor, that his name should be deleted from the suit on the ground that he did not employ Sanusi, or did he suspend him and that joining him in the suit was unnecessary.
The suspended apex bank chief had, in a suit filed against President Goodluck Jonathan, the Attorney- General of the Federation and the IGP, wants a court order reinstating him back as the CBN governor.
The judge had earlier refused an ex parte motion filed by Sanusi on February 24, seeking an order of interlocutory injunction, restraining the defendants from obstructing, disturbing, stopping or preventing him in any manner whatsoever, from performing the functions of the CBN governor and enjoying in full, the statutory powers and privileges attached to the office.
While urging the court to expeditiously grant his interlocutory application, he maintained that any delay might cause irreparable, serious damage and mischief on him in the exercise of his statutory duties as the CBN governor.
In his ruling on the application, Justice Kolawole held that the court had not only the judicial powers to declare the suspension unlawful, but to order that the plaintiff be returned to perform his duties as the governor of the CBN.
The court  also held that even where the tenure had lapsed, the court could order the defendants to pay the plaintiffs such remuneration and allowances, if his suspension also carried with it the stoppage of remuneration and allowances.
Sanusi's motion was supported by a nine-paragraph affidavit and two exhibits.