Umunna Using GOSEC To Reach Out To Nigerian Youths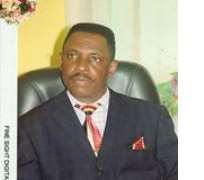 The iconic ambassador of God and the Presiding Bishop of the Bible Life Church Cathedral (BLCC) International, Bishop (Prof.) Leonard Umunna recently marked the second edition of Gathering of Stars, Eagles and Champions (GOSEC) which was held at the church headquarters in a grand style.
The first edition of GOSEC created a free atmosphere of God for Nigerian youths to showcase their God's talents. Professor Leonard Umunna as a bible scholar believes on developing young talents for God than man. The vision of organizing GOSEC came through a great servant of God, Dr. Andrew Agunya of Mount Zion Ministries International, Ajegunle, who saw in a vision where" Professor Umunna was helping large crowd of youths to discover their talents and he immediately put a call to Pastor Angela Ekpene- Umunna,the great virtuous woman of God with creativity and she later communicated the vision to Bishop Umunna and he accommodated the vision with passion.
Though God has shown Bishop Umunna on a vision of gathering youths for Christ to develop their talents. In the first edition, Bishop Umnna told the listening youths that they must associate with those that are better off in life which will enable them to excel in their respective careers. Life is all about challenges and improving on God's own career. He also pointed out that some youths are not ready to improve on their talents than exchanging their talents for money. Every youth must take God's first in his or her life.
Professor Leonard Umunna used the second edition of GOSEC to enlighten youths on how one talent is enough for any individual to succeed in life because those that have one talent will pay rapt attention to it, develop it and it will become great. He also stated that for a youth to have more than one talent without concentration, he or she needs one talent to develop himself or herself. You can be jack of all trades and master of none, it is better to concentrate on one talent. It is sad that some children of God are poor in spite of their giving, because they don't give their talent with joy.
He added that if you don't give talent, money and time with joy, God cannot bless you. Bishop Umunna who quoted his scriptural verse from Jeremiah 17:11 says that" As a partridge sitteth on eggs, and hatchet them not; so he that getteth riches, and not by right, shall leave them in the midst of his days and at his and shall be a fool".
He said, it only good character that will keep ones talent, some people will do all means to get rich, but the end such people are destructions because the means of wealthy is not godly. Many people will discourage you not to exhibit your talents for God but you must not be dissuaded by these talent killers. I was told some years back that I had no good voice to sing in a choir but today, I have proved those people wrong by having over 10 albums in the market.
If you have a little talent in life as a youth, you must develop it to be great rather than waiting for somebody to develop it for you. Some people that used to offer financial assistance has stopped because they had one bad experience from someone they had helped before or someone had stabbed them at the back, the Bishop said no matter the number of times one is stabbed at the back, he or she should continue giving because God will always reward giving. He also said sometimes prosperity is a curse that when people are blessed, they forget God easily.
As a youth, you must continue to be faithful to God for your days to be prolonged on earth. If God knows that you are faithful to him, even when someone's that used to be your helper, no longer assist you again, God will bring another person to assist you. Every divine arrangement is set by God not man. We must exhibit good characters as youths in life. The future of Nigeria belongs to the youths. GOSEC is all about showcasing young talents for God. If you are talented to do something for life as a youth, don't be force to do it.
He also stated that GOSEC holds once in a year and talents are discovered. It is a platform to showcase talents for God. Other programmes were featured like drama, cheography, special music rendition, recitation, comedy and dance performances from various groups from different churches. Bishop Umunna offered special prayers for the youths of the nation.