Customs Officer Boasts Of Dirty Deed In Acid Attack, Says He Is 'Above The Law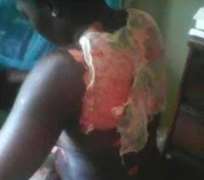 A Nigerian Customs officer known as Mr. Nwaeze has boasted that he is 'above arrest,' after bathing a woman in a deadly acid solution two weeks ago.
Mr. Nwaeze who is said to head a Customs unit at Mosafejo Aradagun, is quoted as boasting he "can do and undo".
The victim is Ms. Tope Fadipe. She is Salesgirl at a local food store run by Mr. Nwaeze's family.
She had been selling stocks for the family for about three years before the incident.
On Friday, the 9th May, 2014, she was accused of not remitting N50,000 stock sales, and she had argued her defense.
However, community residents say, Mr. Nwaeze got frenzied at her refuting the allegation, and a heated argument escalated where he allegedly had bathed her with a deadly acid solution.
Sympathizers say the matter was reported at the Badagry Police Station, and Mr. Nwaeze had boasted no one could arrest him. On Saturday, the 10th of May, one day after the incident, Mr. Nwaeze was said to have appeared at the Police Station, and had returned shortly afterwards to show he is above arrest.
Currently, residents say, Nwaeze belched his car radio speakers loudly whenever driving in the street, with a carriage posting to show that he is above impunity since the May 9th incident.
A resident in the street told SaharaReporters that it is part of Mr. Nwaeze's forte, to 'intimidate and oppress people with impunity,' due to his status as a Customs Officer.
The victim, Tope Fadipe, is currently being treated for her severe burns at the Badagry General Hospital. Witnesses and doctors say her condition is worsening since that attack.
Saharareporters learned through a medical source that, Nwaeze has now tried to secretly collect Ms. Tope from the hospital, without giving off any hint what he wants to do with her.