KUSH catapulted me to the top – Lara George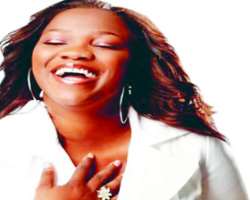 'Ijoba orun' crooner, Lara George, has definitely carved a niche for herself in the music industry and this she has proved, once again with her new album whose hit tracks, ko le baje and Halleluyah that are currently rocking the air
waves. She told FUNMI ELUGBAJU in this interview how she met and fell in love with her husband, the breakup of Kush as a group and her future plans for her music.
Where did you grow up and where did you school?
I am Omolara Bajomo. I was born to Mr. and Mrs. Oluwole Bajomo. I grew up in Yaba, Lagos, and attended University of Lagos Staff School, Queens' College Yaba, Lagos and then graduated from University of Lagos Akoka with a BES/B.Arch (M.SC equivalent) in Architecture.
Tell us about your time with the Kush group, how it was formed, your best moments and the break up?
Kush was made up of three girls and a guy (of which I was a member). We all were former members of a university campus group called Rocksolid, before we graduated and went on to start Kush together. The inability of the members to be fully dedicated to Kush was a major challenge that we contended with all through. For us in Kush, it got to a point where not everybody wanted to give their all. There were issues of time and focus. If you have people in a place and they are all giving 100% of their time and others are not, there would be issues. I believe on my own part, I was giving all my time. I did not want to do some of music; I wanted to do all of music. I love music and that was the way I saw it. Unfortunately, some didn't see it that way and I really did not feel it was any big deal then. I mean that did not make them bad. As for the break up, there wasn't a specific event that led to the break up but one day, when the same thing that had been happening all over again happened, it became a thorn that needed to be removed. They just called a meeting and called it quit! We were afraid of giving our fans less than what we were known for. So, we let it rest. That was in 2002.
Aren't there any sweet memories from kush?
For one thing, Kush did not record most of its songs in the country. We were touring the USA and the UK back in those days, when a lot of our counterparts were not doing it. When we started our promo, we started with billboards and TV commercials. We came with a big bang and I saw it work from humble beginnings. I was catapulted so high overnight. It made me believe that anything is possible. I can achieve whatever I want to achieve. I am still surprised at the accolades and recognition that I get even as an individual years after Kush broke up.
Being a part of Kush was great.
Our first recording was in Abbey Studios, London, the same studio where the legendary Beetles recorded. That was a happy moment for me. I felt so honoured. Another was when the album first came out after three years. It was a beautiful moment. Then, there was the first time. We all travelled together to the USA. It was great. We were picked up by stretch limousine at the airport. That was wonderful.
Tell us about your husband. How did you meet him and how did he propose?
My husband's name is Olugbenga George. He is a legal practitioner. Our first meeting was at a church, but as fate would have it, we later met as co-workers in the same organisation. That was where we became friends. He is a man of depth and an interesting person to be with. There are no dull moments with him. Whenever we were together, I was constantly made happy and lively. I was always laughing and happy. He has a way of handling very serious issues with a smile on his face. He takes the bull by the horns, so, it didn't take me much time to conclude that if I should marry this man, I wouldn't have to worry about anything for the rest of my life.'
We dated for two wonderful years. It was a smooth sail all the way until just before we got married and some issues rocked our relationship. They were wedding issues and in-laws issues. It was not about us not desiring each other but with our in-laws. I never had a doubt about him. His proposal was not any dramatic, so I don't have a super-romantic story to tell of how that went. It was just a quiet evening we had out, and on the way back home, he popped the question. Obviously, my answer was a 'yes!'
Can you share your childhood memories with us?
I have very fond memories of my siblings and my parents. I remember sharing meals with my older and younger brother on weekends, sharing lots of rib-cracking jokes and playing all kinds of games together. My sisters and I used to sing together all the time at home. We had a medley of church songs that we'd do all the time, and it was so much fun!
When was your most embarrassing moment?
Hmn... Not sure I want to share that.
Talk to us about motherhood?
Motherhood is a special gift from God, loads of fun, but a lot of responsibilities. I feel very honoured that God would place such a huge gift as a human life in my hands to nurture and to direct. To be a good mother, I feel it involves a lot of sacrifice, especially on the part of the mother and my prayer is that I would always get it right.
Why is your new album self-titled and not a lead to any of the tracks?
My new album is self-titled, Lara George. It was released in August of last year (2009), and it contains a remix of Ijoba Orun as well as other songs like Kolebaje and Halleluyah featuring Midnight Crew's Patricia King, amongst many others. It's a very exciting mix of different sounds and I am sure people will find it very nice to listen to. The reviews so far have been so encouraging, and I am very excited at the response it is receiving from the public. It is glad to know that people appreciate and enjoy my work.
You studied Architecture. Why did you go into music and not something related to what you studied?
Music is a passion for me. If you ask me why, I'll simply tell you that I don't know. My case is likeable to that of a child that is incapable of explaining the natural instinct to always reach out for warmth and cuddling from his or her mother? Why do human beings breathe and the birds fly? If you can answer those questions, then you'd easily find an answer to why Lara George is glued to music.
What is your take on the Nigerian music industry and your suggestions on the way forward?
The Nigerian music industry is extremely vibrant and I think it is one of the most proactive sectors of the Nigerian economy. We've come a long way from the dark days of just a few years back and I'm sure that in just a short time to come, we'll be at par with our international contemporaries.
What do you think can be done to tackle piracy?
In my opinion, a proactive approach is the best solution to the piracy issue. I commend the efforts of quite a few people in the music industry, who have taken this sort of approach to attack the matter head on. Beyond legislation and enforcement though, there is also the business end of the trade which will discourage this scourge called piracy. I am part of an organisation called SoForte Entertainment Distribution which is Nigeria's first automated distribution company. We have chosen to attack the piracy matter from the business end, by creating an actual network of distribution that allows for tracking of sales as well as proper delivery of goods while ensuring availability. When efforts like this are joined with legislative and enforcement aid, piracy can then be reduced to the barest minimum.
What food would make your day?
I love all seafood except fish.
And where is your favorite hangout place?
My home.
Which is the current project you are working on?
I'm currently working on a new project called the Platinum Collection of my newly released second solo album. This is simply going to be another version of the album already released. This version will be packaged by Sony and will be of international standard. It will also contain bonus tracks for added value.
What are your future plans?
I'm looking towards building the biggest entertainment distribution company on this side of the sahara (SoForte Entertainment Distribution), and I hope to win one or more Grammy awards in the near future.
What do you do aside music?
Nothing else other than that I am the vice president of SoForte Entertainment Distribution.
What message do you have for your fans?
Keep your head up. Trust in God, and never ever despise the days of small beginnings, because God always has a master plan that you may not understand.
Story by nollywoodgists.com