Police move to avert bloodbath in Enugu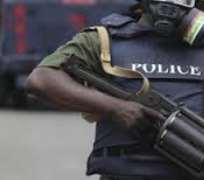 The Enugu State Police Command has beefed up security in Ikem and Neke communities following apprehension that the warring towns may soon clash over a boundary dispute.
The state Police Public Relations Officer, Mr. Ebere Amarizu, said on Friday that all the security formations were prepared to enforce law and order in the area. "We have adequate officers and men to handle any situation.
"The matter is not more of land dispute but the issue of autopsy of the bodies. The people involved should have been charged to court by now. But, all the same, there is nothing to fear. I urge members of the public in the area to go about their lawful activities as the command would guarantee security in the area he assured." She spoke to Sunday Independent.
 
It would be recalled that the traditional ruler of Ikem community, Igwe Amb. Francis Okwor, had called on Governor Sullivan Chime to intervene in the communal crisis before it leads to bloodshed.
The traditional ruler who spoke with reporters in Enugu alleged that the crisis was being fuelled by the chairman of the local government area, Hon. Augustine Nnamani, who is from Neke community.
Okwor also alleged that the council boss had been instigating his kinsmen to go to court over the boundary, which according to him, had been demarcated by the state government between the two communities years ago.
But reacting to this allegation, Nnamani told reporters that the monarch was not saying the truth, adding that he had no hand in the communal crisis.
He said the allegations were just to smear his image and reputation.
The monarch traced the land dispute between the two communities to 1952 when, according to him, Neke community encroached on their land and when Ikem people sought that the land be demarcated, and Uzo-Agu Association, an umbrella organisation that bound the five communities of Isi-Uzo Local Government Area, insisted that the land should not be demarcated among brothers and Ikem people agreed with a proviso that Neke people should not go beyond Ngene Ikwe, a stream between the two communities.
He noted that the communities continued to live like brothers without official demarcation until 1976 when a secondary school, Ikem Secondary School, was built in Ikem. He said the Neke people suddenly came up and said the school should not longer be called Ikem Secondary School but Ikem-Neke Secondary School, a name the school retains till date.
Okwor alleged that due to Neke people's continued encroachment on Ikem land adjacent to the school premises, there was a clash in which five Ikem people were injured by Neke people.