Abducted Chibok Girls: Coalition Of Human Right Group Calls For More Action, Condemned Negotiation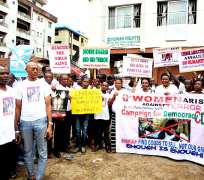 Demands for release of girls kidnapped a month ago by Bokoharam members in a Government Girls Secondary School, Chibok, Chibok local government area of Bornu state received a boost Thursday, in Anambra state, as over 5000 members of coalition of Human Right Activists in the Southeastern part of the country, peacefully demonstrated at different parts of Onitsha, the commercial nerve of the state, causing traffic gridlocks for hours.
The Human Right groups which included Campaign for Democracy (CD), Women Arise for Change Initiative, Human Right Volunteer Force among others, also visited Police Divisional Headquarters at Fegge, Onitsha South in order to register their grievances, with placards of different inscriptions among which were: Chibok Abduction Assault on Humanity; Rescue the Girls Alive (Women Arise Against Terror); Please Help, the two "Onwa" (crescent) is killing and milking us; Shakau: fine Goods to sell, not our girls, Enough is Enough; Crime Against a Woman is a Crime against Humanity; Child Labour is Child Abuse.
Led by the Southeast Chairman of CD and Co-coordinator of Women Arise for Change Initiative, Dede Uzor A. Uzor, the coalition described the abduction and forceful conversion of the innocent girls to Islam as unlawful, barbaric, condemnable and unacceptable, even as they advocated for total declaration of states of emergency in the troubled areas so as to create enabling environment for government to resolve the impasse on a neutral ground.
Speaking to newsmen, the leader, Comrade Dede Uzor A. Uzor described the act as crime against humanity and called on the federal government to expedite action towards rescuing the girls, noting that the girls have undergone psychological trauma for a month of been rudely apprehended.
Comrade Uzor who advised government not to negotiate with the dreadful Islamic sect as that would possible aggravate rise of more sects in the country, further urged government to do all humanly possible to bring the culprits and their sponsors to book.
Also contributing, Comrade Vincent Ezekwueme, the Anambra state Chairman of CD, and Mrs. Uba Chukwu noted that involvement of the International Communities on the search to bring back our girls is a step in a right direction, but regretted that government relaxed for over three weeks before taking action.
While Comrades Ejiofor Charles of Human Right Volunteer Force, Ben Ugwueze and Chris Udenta reiterated the need for government to plan ahead of time on how to rehabilitate the girls once released.
2014-05-16 105649
2014-05-16 105710
2014-05-16 105738
2014-05-16 105806
2014-05-16 105825