President Jonathan visits Chibok today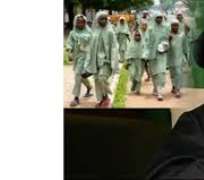 Reports indicate that President Goodluck Jonathan will be visiting the terror-stricken Chibok, where more than 200 school girls were abducted by the dreaded Boko Haram Islamist group about a month ago.
Although the presidency was yet to formally confirm the planned visit, the reports indicate that an advanced team of the presidential entourage had already left Abuja by Thursday.
A security source said the official secrecy over the visit is not unusual because of the security implications of such visits. He cited example with the unheralded visits of President Barack Obama to both Afghanistan and Iraq.
Jonathan is expected to visit the troops on ground and meet with the parents of some of the kidnapped school girls.
President Jonathan will be leaving to France after the visit.
Th girls were abducted by the insurgents on April 14, more than ago.
Jonathan has faced criticism for his inability to visit the troubled spots of terror attack to observe things by himself.
The kidnap of the Chibok school girls has however drawn international attention to the operations of the Boko Haram terrorist group in Nigeria, with most world powers already involved at some level in the search for the school girls.