T.B. JOSHUA AND HIS CHARITABLE MINISTRY (PART 2)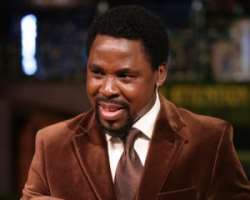 Pastor TB Joshua - Spend more on others and less on yourselves
All the fruits of the spirit which we are to lay weight upon as evidential of grace, are summed up in charity, or christian love; because this is the sum of all grace. And the only way, therefore, in which anyone can know their good estate , is by discerning the exercises of this divine charity in their hearts; for without charity, let men have what gifts you please, they are nothing.
One man to recognize for his good heart of giving is, TB Joshua, The spiritual leader of Synagogue church of all nations. He is indeed a cheerful giver and one with a difference. This man of God is really doing a great job of charity by assisting the less privilege not just in his Nation but the world at large. He is indeed an icon to reckon with when it comes to Charity. He ministry is not just preaching the bible, healing and delivering the unclean, but also spreading the gospel of charity to the less privilege.
TB Joshua said in one of his Sunday live services, "I told you about the ministry of apostles: watch and pray. Before you begin to pray, you need to look around and see those who need your love, those who need your kindness. You must feel what others feel. Jesus feels what we feel. The hurt of one must be the hurt of all," Joshua counselled the respectful crowd, many moved to tears at the practical demonstration of Christianity. He further said, Life is all about giving and someone somewhere is in need of what you have. He encourages his members to have a good heart toward giving to the less privilege.
This man of God gave scholarships to two armed robbers who renounced their former ways and were rehabilitated in the church for over two months and they were also given financial support to begin their new lives in Christ. Chuks Olisemeka, who had been condemned to death in a Tunisian prison on account of robbery only to be miraculously released, and Ekene, a Deltan who came straight from prison to The SCOAN, both received N120,000 to establish themselves.
Amazingly a physically challenged man who came with his wife and four kids was helped financially. The physically challenged man, Steven Alfred, was given N200,000 for his children's school fees, and five bags of rice.
According to TB Joshua "If you meet people like that, and you are in position – you have to help," He further explains, "You can move freely, and he cannot move freely. You are to do something. If you see people like that and you close your eyes, you are closing your eyes to blessing of God. If you are blessed and you want to maintain it, without being a good giver – you are deceiving yourself, you cannot maintain it. This is why you get there and you fall back."
He is also assisting talented footballers who have no one support in actualizing their goal. My People FC team formed by TB Joshua is really helping the players financially and spiritually. Three of its players were given an open door to go on trial to a club in Sweden. Two among these three lads are in the current Golden Eaglet team (SANI EMMANUEL AND ONAZI OGENYI).
How many pastors today are really giving charitable aids to the less privilege in our society and around the world that we live in today? Instead you find pastors buying expensive cars, buying a private jet while people around them are suffering. Leaders should start an organization for the less privilege which will definitely reduce rate of poverty in our society.
Keep the good works going TB Joshua
Source; africanews.com
Development / Ghana / Africa / Modernghana.com