"Nigeria's Common Enemy Is Boko Haram" Sen. Iyiola Omisore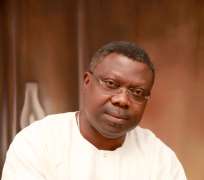 CHICAGO, ILLINOIS, USA May 15, 2014: The Osun State People's Democratic Party (PDP) candidate in the forthcoming August 09, 2014 governorship election, Sen. Iyiola Anthony Omisore has called on Nigerians at home and abroad to support the Jonathan Administration's determined efforts to defeat the misanthropic religious organization known as Boko Haram.
Sen. Omisore made the call recently during an interactive session with select journalists in Washington, DC during a private visit to the United States. He admonished Nigerian politicians on both sides of the political aisles to desist from politicizing the security challenge posed to the nation by the terrorist organization.
According to him; " Nothing can justify holding school girls hostages under brutal condition whose only crime is attending schools to get educated and contribute to the development of the Nigerian nation. In this period of national agony, we must remain genuine patriots and speak with one voice against our common enemy; Boko Haram. It is in this regard that I personally empathize with President Goodluck Jonathan, the parents of the abducted schools girls, our security agencies and all victims of terror."
Sen. Omisore disclosed that the Jonathan Administration was doing what any responsible and responsive government anywhere in the world would do in eradicating terrorist activities in Nigeria, insisting that; "insurgency is best defeated when political elite remain united against the activities of Boko Haram and its affiliates and all Nigerians support security agencies who, on daily basis lay down their lives for the defense of the Nigerian nation, " adding that; "partisan politicking should be at the back burner in Nigeria's war against terror."
Comparing the United States' war against Al-Qaeda and other terrorist organizations in the world and the bi-partisanship spirit between the Republicans and Democrats under both Presidents Bush and Obama toward the threats, Sen. Omisore admonished Nigerian politicians in both the PDP and APC to put Nigeria's national interest first and join hands with President Jonathan to make Nigeria secure for all.
Sen. Omisore commended the Jonathan Administration for seeking the assistance and support of the United States, the UK and the Western World in rescuing the abducted school girls from Boko Haram. He said such international support would add fillips to the efforts of Nigeria's security agents to defeat Boko Haram and assuage the trauma and pains the girls and their parents are going through in the hands of the terrorist organization.
The senator, who was on a private visit to the United States, has since returned to Nigeria.