Mutiny: Angry soldiers shoot at GOC in Maiduguri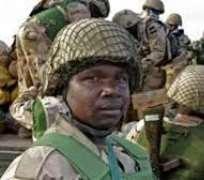 Soldiers in Maidugiri on Wednesday opened fire on the official vehicle of General Officer Commanding (GOC) 7 Division, Nigerian Army, Ahmadu Mohammed, a Major General, as he arrived to address them at the Maimalari Military Barracks in Maiduguri, Borno State capital.
Sources close to the military barracks disclosed that some troops who went to Chibok Local Government area for an operation where over 234 schoolgirls were recently abducted by suspected Boko Haram terrorists carried out the mutiny against their boss after returning to Maiduguri.
The soldiers were protesting against what they described as a wrong order from their boss which led to the killing of over 10 of their colleagues.
According to accounts, the soldiers were said to be on their way back to Maiduguri when they realised that the Maiduguri-Damboa road was not safe, as darkness had set in.
They then requested the GOC to allow them spend the night in one of the villages considered to be safe for them.
The GOC was said to have insisted that the soldiers must come back to Maiduguri the same night.
The order however proved disastrous as they were ambushed by Boko Haram, leading to the death of many of them..
Although it could not be officially ascertained, there was strong rumour in town that the GOC was shot at in the milieu.
Military sources further said when the GOC tried to address troops on the ongoing operation against the insurgents, the soldiers on sighting the arrival of corpses of their deceased colleagues got angry and started shooting sporadically.
Some of them were said to have indeed intentionally opened fire on the GOC's vehicle but that he narrowly escaped.
"What angered the soldiers most is the unnecessary deduction of their allowances and subjecting them to harsh working conditions without proper equipment to carry out their rules of engagement.
"As a result of this, many of them were being killed like rats by the insurgents," a source noted.
A statement later last night from the Defence Headquarters said the 7 Division of the Nigerian Army is to institute a military board of inquiry into the circumstances surrounding the conduct of the soldiers who fired some shots while the GOC was addressing the troops.
The statement issued by the Director, Defence Information/Coordinator, Chris Olukolade, a Major General, said the incident occurred when the corpses of  four soldiers who died in an ambush while returning from patrol duties in Chibok was being conveyed to the morgue.
He said there is now calm in the cantonment and that all normal operations  activities are ongoing .