Nigeria Stock Exchange: Foreign portfolio inflows rise to $2.2b in Q1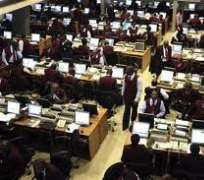 The Nigerian Stock Exchange said on Wednesday foreign portfolio inflows into its equity market rose 65.1 percent to 356.50 billion naira ($2.20 billion) in the first quarter as domestic investors cut their exposure.
The bourse said total transactions on Nigeria's stock market stood at 547.5 billion naira during the three months to March, of which locals accounted for 34.9 percent.
Nigeria has been growing as an investment destination for foreign investors attracted to its stock and debt markets by the growth prospects of Africa's biggest economy and its large consumer base seeking everything from cars, houses to services.
Nigerian stocks on Tuesday climbed to their highest in 2-1/2 weeks, lifted by gains in the banking sector as investors position for year-end dividend payments. [ID:nL6N0NZ5EA]
Several Nigerian lenders announced dividends as part of 2013 results, attracting investors to their stock.
Guaranty Trust Bank, Nigeria's biggest bank by market value, declared 1.45 naira per share dividend in April. FCMB, Sterling Bank and FBN Holdings all also plan to reward shareholders with dividends.
Foreign inflows into Nigerian stocks have risen 36 percent in six years to 1.04 trillion naira, stock exchange data showed, as domestic participation decreased by the same percent over the same period to 1.0 trillion naira.
The bourse said local participation in equities also waned in the first quarter of 2014 as domestic investors composed mainly of retail investors stayed wary of stocks which had fallen more than six percent during the period.
($1 = 162.3500 Nigerian Nairas)
Reuters