OMISORE SUES THE PUNCH FOR N1BN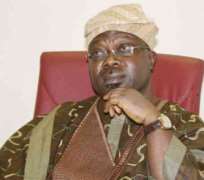 Omisore sues The Punch for N1bn
By Odunayo Abiodun
March 19, 2010 03:23AM
Iyiola Omisore, the Chairman Appropriation Senate said the PUNCH has brought hatred, doubt, shame and loss of good reputation as well as loss of self-esteem. Photo: NEXT
Iyiola Omisore, a senator from Osun State, has dragged Punch Nigeria Limited and two others before a Lagos High Court sitting in Ikeja, for having purportedly published a 'libellous article' and he is asking for the sum of N1 billion jointly and severally from the respondents.
Mr. Omisore joined the Editor of Punch Nigeria Limited and a certain Kola Ibrahim, who allegedly wrote the article titled 'Osun State Election Is A Farce', as co-defendants in the suit.
While the article was said to have been published on 27 April 27, Mr. Omisore said the publication has brought hatred, doubt, shame and loss of good reputation as well as loss of self-esteem.
'The Master Rigger'
Accordingly, the senator is claiming that the article inferred that he is a master election rigger who won his senatorial seat by dubious means; also, that he is a notorious murderer and terrorist who could and indeed kill with impunity, as well as has no value for human lives among a host of other defaming inferences.
Consequently the claimant asked for a court injunction restraining The Punch Newspapers from further "printing, writing or calculating or causing to be written, printed or calculated or otherwise publishing of the plaintiff the said or similar libel." In addition, he asked for a sum of N1,000,000,000.00 (one billion naira) severally and jointly as damages.
While the matter came up before Olaide Olayinka on Thursday, the court could not proceed with the trial as was earlier scheduled because the lead counsel to The Punch Newspapers was absent, as he was said to be indisposed, according to the junior counsel, Saheed Sodiq.
The matter was adjourned to 15 April, 2010 for mention by the presiding judge who noted that the redeployment in the Lagos judiciary was one of the reasons for the adjournment, since the matter will likely be reassigned to a new judge, who will be moving to the Ikorodu division.
"This is a fresh matter where parties have agreed on today for definite trial," Mr. Olayinka said. "However in view of the deployment, the court will give a date for mention."