Akwa Ibom Commissioner Takes Campaign To Palm Wine Joint
Encourages Cultism In The Society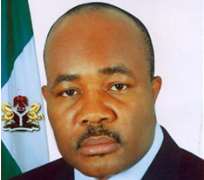 Those who thought that the heir days of cultism in the society were over are daydreaming as a new wave of it blew last weekend in Uyo, the Akwa ibom State capital.
As a count down to 2015, to get "the support of the boys", Bassey Albert, immediate past commissioner for Finance played host to members of the Vikings Confraternity, at a dog meat joint/ palm wine joint at Urua Ekpa Road, Uyo.
In company of Hon Onofiok Luke Luke, the immediate past finance helmsman used the event to celebrate his removal, describing it as "breaking the chains that tied his hands". He appealed to the "boys" to show patience as he would have empowered them better when he becomes Governor. "If Governor Akpabio did not move the inter ministerial projects from my direct control, I would given more empowerment to you boys, but I want to assure you that better as governor.
Information at our disposal is that Hon Onofiok Luke used the occasion to lambast the governor for interfering in the affairs of succession, as only the people will choose their governor in 2015. "Nobody should think he will be able to impose a successor on the people, and the contest for 2015 should be made open to all contestants..."
Hon Luke also requested for an open contest because, in his view, "zoning is not democratic, it will lead to someone imposing a Governor on the people of the state.
A journalist, who disguised himself in order to be there, but chose to speak under strict confidentiality said, " that the event was a cultic home coming".
Our source further said that the former commissioner donated the sum of 1 million naira, which was shared only to members of Vikings, Bassey's club.
Bassey Albert is the immediate past commissioner for finance, Akwa Ibom State, who served for seven years in the state executive council.
Enobong Akpabio is a social critic, wrote in from Nsit Ubium