Niger Delta Delegates Must Insist To The End, If The North Resist Resource Ownership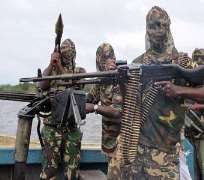 Although a report on Monday published by Premium Times Nigerian Online news has it that, confab committee to take decision on derivation, onshore/offshore Tuesday, May 13, 2014. It states also that the north is still insisting on reducing the so-called derivation money granted Niger delta or South-South states for their oil to five percent. It further reported based on the comment of a committee member, Eddy Erhagbe, that the current thirteen percent derivation fund seems to be what a consensus leaning suggest, though the possibility exist it might go up than that.
Irrespective of the above, let me thank the conveners of the interactive forum held in Port Harcourt by Niger delta delegates as was also reported on May 9 by Premium Times with the title: Niger delta delegates to the national conference hold consultative forum with citizens.
This shows they've foresight, thus gave the people an opportunity to discuss, ask questions and know where the region stands on the lingering issues taken to the conference. According to the report, citizens supported delegates to maintain the region's position on resource ownership among other positions taken by the Pan Niger Delta Council (PNDC) in January. The report points out that Ann Kio Briggs, who is a delegate to the conference and member of the committee on devolution of power, which also deals with the resource control and derivation issues, said alongside other views that the region's oil should first be shut and kept untapped-call it a moratorium.
This is of course my position and that of most Niger deltans. There is no reason for deviation from this line of thought for another sharing formula, especially following the highhandedness of the north. Meanwhile, opportunities to discuss like this one permits open and honest communication that carries items such as how to think critically, solve simple and complex problems or interrelate; suggestions needed or what can we (I) do to assist? and feedback. These are some of the integral elements of any relationship, whether between government and the ruled, business or employer-employee, platonic or romantic, that may succeed. It's a job well done, and kudos again to the Niger delta delegates who have held fast on the positions of the region to date.
That's, it's with the assumption that all the delegates are on the same page and not thinking like Sergeant Awuse whose idea of compromise according to the report is worst than despicable. Compromise what, resource ownership and for what in its place; five, thirteen, twenty or fifty percent derivation for your own land and wealth as if they're sharing crayfish to youngsters? When would the north, others bring something to the table for the Niger delta to share and use same to create more states for itself like they've done? This should be the question to ask Northern delegates and their supporters.
We've gone past that stage of sharing formula, as such demanding all the oil and gas/land back for a start at discussion level or will stop it sooner, where this demand is treated contrary-wise is the current stage Niger deltans are or should be. Let me, the Niger delta public and the world hope that our delegates haven't changed their mind like Awuse expected. The world, including the Hausa-Fulani, Northerners know other than Niger delta no other group has the bulk of oil exploited and misused, powering Nigeria except everyday Niger deltans who have been reduced to slaves in their own land mostly by the same Northerners and their stooge representatives from the oil region.
If these delegates who were just granted kudos and supported by the region's citizens to maintain the region's stance proceed to support any other sharing formula based on oil as we know it's mostly projected, then the north must have outsmart or bullied them, applied their carrot approach (money, promised positions and gifts, etc.), which always divide Niger deltans and eventually make them laughing stock. This will be the worst year and decade for the Niger delta people and all its supporters around the world monitoring closely, should they compromise after more than fifty years of compromise, disrespect, cheating, killing and environmental ruins.
If Niger delta people or delegates, including a sitting president can't deliver or grant clamored salvation to the region knowing fully that the Northern cabal is a greedy and bloodsucking sect, who else should? Anyway, I'm still trusting these delegates will insist and resist if Northerners who have no oil well in their backyard or understand the environmental hazards associated with oil exploitation insists from no vantage point, but threat of Boko Haram and others they might release to the streets.
Niger delta will have nothing to lose should these delegates insist to the end with no compromise. Let's face it, do Niger deltans, their delegates at the conference really have liver to call a spade a spade and say, this is where the line is drawn? If yes, when will that liver stand for righteousness and justice; when would those who are activists, lawyers and so forth exhibit what they might claim to have been doing before the conference on behalf of the region?
Why must the region compromise resource ownership and control having done so, fed the entire country and got nothing but deaths, hangings and environmental degradation in return? True that some Niger deltans like those in and at the corridors of power and some at the conference are benefiting. The common man who has nobody in government sharing money in "Ghana must-go" bags or person to speak for him or her, and if he can't carry guns is, confined to suffer, roast and give up the ghost!
So if the north can't respect Niger delta to appreciate our contributions of oil and blood sacrifice, which they spilled for demanding our rights to land, resources therein and other fundamental rights to a decent existence why continue to allow them mistreat the region and still get the oil and gas to the extent of claiming they own it? Come on people, life in itself is a risk; and we've only one life to live or die, though common sense will not push any group to want to kill another where disagreements leads to some saying, "enough, it's time to stay alone for good, because people must not be forced to stay together if they don't agree!"
There is no magic or miracle, no unseen hand or celestial bodies that will work and fight for Niger delta or any group. Other than unfounded abstractions, as historical facts shows, only humans think, work and fight to liberate themselves for the greater good, so the time is now! If Northern delegates can insist that the status quo remains, and even demand the scrapping of Niger delta Ministry, NDDC, I wonder why Niger deltans at the conference can't unite and quadruple their insistence for resource ownership and demand (or the region stop it immediately so others will think and create) complete stop of oil exploitation from the region as Ogonis resourcefully did after getting death and poisoned land in return for more than three decades of compromise and docility.
I'm not advocating hate, rather pointing to reality. Those dining and wining with the cabal, including confused Goodluck Jonathan, who knew these issues close to the region's heart will demand constitutional amendment, yet continued, should have a rethink and acknowledge the fact that the north isn't changing hence the need to re-strategize in the best interest of Niger delta. Jonathan also knew the National Assembly isn't and will not be in favor of Niger delta when considering these issues, due mostly to the fact that it's dominated by those reaping from where they don't sow.
Except by magic or the public insist, which I doubt, the conference can't amend the constitution nor can it impose referendum as added outcome, though can only recommend. Jonathan swallowed every idea granted him without first considering the illegal military constitution he's defending. The north misruled Nigeria for decades. These rulers caused the poverty, underdevelopment or the lack of it and hardship, lack of order and thirst for blood that's conspicuous across the nation and particularly the Northern region currently. Ironically, this same people are complaining about marginalization and underdevelopment-so the Boko Haram saga.
Therefore, Niger delta delegates should and MUST canvass and insist on resource ownership even though it leads to the country's breakup, and not 50% derivation. The country missed many opportunities to negotiate 50% for with Niger delta region as was the case in the 50s and ignored them due to greed and shortsightedness about the reality of the future. Delegates should also join others to demand regionalism, which the north already kicked against as it's kicking against resource ownership which its peoples enjoy, knowing that it will loss the nonviable states used as a sucking pipe.
Both ideas worked well in same country during the regional regime, which Northerners benefited like Westerners and Easterners. Regionalism will permit regions to create only the number of states or units they can sponsor and maintain with the resources or revenue they generate and not to become parasitic and kill in anticipation of oil and gas or resources from other regions. The conference should be a defining moment, which the negative tissue it originally was (since those of us who knew were clear nothing would come of it but mere talks and personal political benefits) can be turned to positive when Niger deltans will insist on resource ownership, fiscal federalism/confederacy-regionalism and also insist on implementation else oil will be stopped.
And the rest of the country would reason with them and understand if they're serious and wish the country continue, despite the arrogance of the north. It's now the north and others' turn to compromise, not Niger delta's, which has fed the country for more than fifty years and has also been stolen from, made impoverish, object of mockery, death and pollution. So, seriousness and consistency on the part of Niger delta delegates is the key, not wining and dining that betrays. If Niger delta can't succeed now no other time exist and it will be shameful that a people with so many rivers have no water to drink but urine offered them by their previous slave masters!
Disclaimer:

"The views/contents expressed in this article are the sole responsibility of

Ben Ikari

and do not necessarily reflect those of The Nigerian Voice. The Nigerian Voice will not be responsible or liable for any inaccurate or incorrect statements contained in this article."
Articles by Ben Ikari