Governor Oshiomhole Endorses Sean Tizzle's Album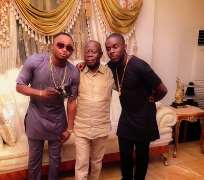 Information reaching NigeriaFilms.Com has it that, Nigerian director of photography (DOP), Adams Omar, who used to work in Ghana, is wanted by the Ghana police service for allegedly defrauding a gold dealer.
According to our source, Adams met the gold dealer - Elizabeth Peter Osai in Ghana and convinced her that they can both collaborate to shoot a movie together, but in the process; Adams sidelined Elizabeth so she decided to report the issue to the police station.
In a chat with Elizabeth, she said she came to Ghana to solve an impending fraud issue when Adams Omar contacted her.
"I came to Ghana to solve a similarly fraud issue that Adams is aware of, so Adams contacted me and convinced me that, looking at what I've gone through in the hands of some producers, he would like to assist me when I give him GHC 10,00 for a movie collaboration.
I gave him the money because I see him more like a brother, but later he wanted to play an unwanted prank on me, so I reported the case to the police" angry Elizabeth said.
She added that, when Adams was arrested, she was bailed by One Ghanaian top Businessman and within some months, he ran away from Ghana.
She lamented that, currently the issue is in court and a warrant has been issued where the business man in question has been asked to provide Adams in court as soon as possible.
All attempts for our Ghanaian Rep (Mustapha A Inusah) AKA Attractive to get the business man in question failed.