Canadian firm to provide 3,000MW of solar power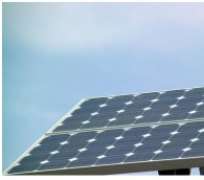 In line with the renewable energy initiative the Delta State government has signed a Memorandum of Understanding (MOU) with SkyPower Energy, a Canadian investor, to build and generate solar-powered electricity in the state.
The Minister of Industry, Trade and Investments, Olusegun Aganga, said the Canadian firm was investing five billion United States dollars in renewable energy in the country.
According to him, the firm would be producing 3,000 megawatts of solar-based electricity for the national grid with the facility being deployed first in Delta State having taken the initiative for the renewable energy plant.
He also disclosed that the Federal Government will facilitate the provision of licence to generate the solar-based electricity for the national grid with about 1,000 megawatts being generated from plants located in Delta State.
Earlier, the Canadian Minister of International Investments, Christian Paradis, noted that with the  Foreign Investments Protection Agreement (FIPA) between Nigeria and Canada, more investors would be encouraged to invest in Nigeria.
The Federal Government had last Tuesday signed the FIPA with Canada to remove existing bottlenecks to smoothen the take-off of Canadian investments in Nigeria.