Gbenga Adeyinka Turns 'Caterer'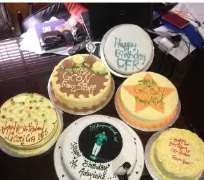 Yesterday, 6th of May, 2014, veteran comedian, Gbenga Adeyinka marked his birthday and from what we learnt, he received lots of cakes from well wishers. as well as good will messages. He took to social media to thank them all and announced that he now has cakes to rent out from what he got yesterday.
He wrote;
"Thank you are just 2 words. Thank you sometimes cannot express the depth of gratitude felt.
"I will however tell you that without you, I would not have had a reason to say THANK YOU in the first place. Your birthday wishes, gifts, presence and cakes really made my day.
"CHAI! CHAI!!! you guys are awesome and God will continue to bless you and never let you lack the joy you have me.
"NB... I have cake for rent o! pls patronise my new business #yourock."