President Jonathan commends WEF participants for defying terrorists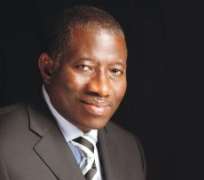 President Goodluck Jonathan on Wednesday commended world leaders and other foreign nationals participating in the ongoing World Economic Forum (WEF) for Africa for attending the event in Abuja despite obvious threats from terrorists.
Jonathan gave the commendation at the closing plenary of Grow Africa, one of the activities lined up for the WEFA.
The event, with the theme: 'A leadership agenda for investing in African agriculture', was held at the Sheraton Hotels, Abuja under tight security.
The three-day WEFA is holding in Abuja at a time two bomb explosions were recorded in Nyanya, a satellite town of the Federal Capital Territory, and when global attention shifted to the country over the abduction of schoolgirls by Boko Haram insurgents in Chibok, Borno State.
While commending participants for not giving in to threats of terror, the President also lauded the organisers of the event for not cancelling it despite the latest activities of terrorists.
On agriculture, Jonathan reiterated his government's commitment to self-sufficiency in rice production by 2015.
He stressed that Africa must create the enabling environment for private investors to get returns on their investments in agriculture.
Jonathan said, 'You have to create the environment to encourage investment because businessmen do not run charity organisations. That is why we are now looking at agriculture as a business. The youth before now see agriculture as something that is left for the poor and old people in the village, with traditional instruments.
'If you invest in agriculture, you will make returns on your investment. Agriculture is key because people must eat food no matter the situation. You can be sick and choose not to go to the hospital, but you must eat every day.'
On food sufficiency, he said, Nigeria's import bill was very high because the country was importing almost everything.