Nigeria Recalls Ambassador To Libya, As Gaddafi's Comment Ignites Row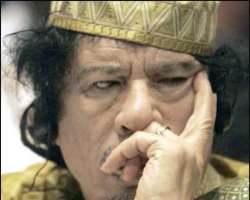 PHOTO: COLONEL MAUMMAR GADDAFI.
San Francisco March 18, (THEWILL) – Nigerian central government on Thursday temporarily recalled its ambassador to Libya, Isa Mohammed, following comments credited to Libyan President, Maummar Gaddafi which advised that Nigeria should be partitioned into two nations along Christian and Muslim lines, to avert frequent sectarian violence.
Nigerian Senate through its President, David Mark on Wednesday reprimanded the outspoken leader for his comments while referring to him as a 'madman.'
Gaddafi was addressing visiting students from multiple African universities in Libyan capital, Tripoli when he made the comment.
Sources at Nigerian Ministry of Foreign Affairs confirmed the recall was with immediate effect adding that Nigeria was formally protesting against the insensitive comments credited to the former Chairman of the African Union.
"The recall however does not affect the diplomatic ties between both nations," the source added.
In a related development, the House of Representatives today passed a resolution condemning Gaddafi for his comments and urged the central government to break ties with the OPEC member country.
The House summoned the Libyan Ambassador to Nigeria to appear before it to explain Gaddafi's comments to legislators.
The resolution was moved by House Committee Chairman on the Air Force, Hon. Halims Agoda.
"Gadaffi's statement is very inciting, we must condemn the man so that we can move forward as a nation.
"Our founding fathers worked very hard to bring us to where we are today, our differences have been our strength," Agoda said.