Colour, Pomp And Pageantry As PHCCIMA's Ex President, Ohuabunwa Dedicates Twins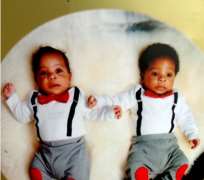 Glitterati, colour, pomp and pageantry are just few words to illustrate the ambiance and glamour as former president of the Port Harcourt chamber of commerce, Sir Godfrey Ohuabunwa dedicated his set of twin (boy and girl) to the glory of God on Sunday, April 26th 2014 at St. Andrews (Ang) Church, Rumubiakani in Port Harcourt.
If the atmosphere in the church where the dedication service was held was exhilarating, then the reception was electrifying and mind blowing. The event brandished the gathering of the crème de la crème of the society, was a roll call of who is who in n Port Harcourt and beyond while speaking in company of his beautiful wife, Angela during the sumptuously organized reception held at his Gracious Avenue, in residence in Rumuogba, Port Harcourt, Sir Ohuabunwa expressed gratitude to God Almighty for blessing his family with a double joy of a girl and boy twin, thanking the guest for also honouring his family with their presence.
The twin named Divine and Godfrey Jnr., according to the former PHCCIMA helmsman are gifts from God, even as he expressed appreciation to God for granting his family's prayer with the blessing of another set of twins which he disclosed came seven eager years after they were similarly blessed with the initial set of twins. Hear him: 'we are aware that baby dedication is a time for parents to publicly commit themselves to the Godly rearing of their children as demanded by the Holy Scripture, the bible and to also show appreciation and thanksgiving to him;today's event is a demonstration of our deep appreciation, we are more than grateful for these gifts and is committed to raising them according to the ways of the Lord.
Ohuabunwa the MD/CEO of Multimesh Communications Group also thanked God for preserving his wife from conception to safe delivery, praying God to grant the children long life and prosperity. He used the occasion to enjoin other couples to show faith in the Lord as he is capable of turning their situations around.
The event was well attended and witnessed the presence of key personalities like the first lady of Rivers state, Dame Judith Amaechi, House of Rep member, Dakuku Peterslde, Sam Ohuabunwa, President, Nigerian-American Chamber of Commerce, PHCCIMA President, Engr. Emeka Unachukwu, former presidents, Elder Hyke Ochia and Dr Vincent Furo, council member, MD/CEO of the Promise, Oluwatobin Alabi and host of other high profile individuals.
2014-05-06 172023
2014-05-06 172044
2014-05-06 172105
2014-05-06 172309