Court strikes out ANCBN's suit against CBN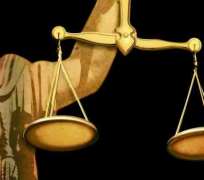 The National Industrial Court sitting in Enugu State on Monday struck out a suit filed by the Association of Non-Consolidated Banks, Nigeria against the Central Bank of Nigeria and others.
The court presided over by Justice Auwal Ibrahim struck out the suit following the claimants' counsel, Mr Emenike Azubuike's failure to file the suit within stipulated time.
The former members of staff of the ANCBN had sued the CBN and eight others for the nonpayment of their terminal benefits.
Azubuike in his affidavit claimed that his clients were entitled to their terminal benefits, salary arrears and allowances stipulated by the CBN Guidelines and Incentives on Consolidation in the Nigeria Banking Industry of Aug. 5, 2004.
The counsel to the CBN and Nigeria Deposit Insurance Corporation, Mr Ogechi Ogbonna, had argued that the suit was filed out of time.
He said the Federal Republic of Nigeria Constitution gave three months for such demands but they failed to come up with it since 2006.
The judges after going through the counsels' argument struck out the suit because it was filed out of time.
The News Agency of Nigeria reports that the non consolidated banks included Hallmark, All States Trust Bank, Metropolitan Bank, AfriBank, Assurance Bank, Liberty Bank, Golf Bank, City Express Bank and Fortune Bank.NAN