Bishop Leonard Umunna, A Diamond Indeed At 60!!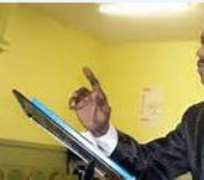 Silver at 25, becomes golden at 50 while a diamond glows and dazzles at 60. Frankly speaking, at 60, one can simply say that Bishop Professor Leonard Nwoma Umunna, the General Overseer and Presiding Bishop of the Bible Life Church Cathedral (BLCC) International, has added another resplendent signpost to his eventful and successful life. Born 60 years ago at Umuoma Okpofe in Itu Ezinihitte LGA, Imo State, Bishop Leonard Umunna, did not have the privilege of being born with silver spoon as he came from a very modest background. He never attended a secondary school but only stopped at the primary school level.
He, therefore, had to take his destiny in his own hands by facing the vicissitudes of life squarely. He received his calling at 9 and never backslides in faith and remains steadfast in his mandate. Bishop Leonard Umunna educated himself without his challenging background to set him back. Through hard work and determination he was employed as a copy typist to the defunct Nigeria National Supply Company (NNSC) and rose to the enviable position as a manger and retired honourably from service as the Head of Department of the same company.
Though, he was unable to finish his primary school and paralyzed three and half years and seeing his equals going to school while he remained in one disadvantaged spot, but hopeful that one day, God will deliver him from the hands of enemies. Bishop Umunna received instant healing at that tender age while others thought of seeing him to the great beyond which God never allowed, as a result of the divine assignment in his life. Nobody ever envisaged that his lifeless body structure will be resurrected to life.
Bishop Leonard Umunna had several encounters with life where some of his ministers of God rebelled against him over a drama he acted in the church and other sundry issues where some of his branch churches broke up and other destructive allegations to paint the Man of God black. He remains faithful in God and extended total forgiveness to his aggrieved pastors who wanted his down fall then. He is a man of God that preaches against anger in the altar, who believes that all General Overseers must learn how to forgive their junior pastors than placing curses on them. Bishop Umunna was unperturbed last year October at the50 golden on the pulpit.
He is presently 51 on the pulpit without defeat, backslide and scandal. How many Bishops in Nigeria can toe the same path of a great servant of God of the 21stcentury that has penchant for the electronic, print and online media in Nigeria? He got his divine calling at 9 which he celebrated last year October at 50 golden on the pulpit with crème da la crème of people in Nigeria. Bible Life Church Cathedral International is one of the oldest Pentecostal churches in Nigeria.
Umunna started preaching on buses popularly known as" Molues"now reformed as BRT buses in Lagos State by Fashola- led government and morning cries, street evangelism, radio and television evangelism and never gave up the calling of God in his life. Bible Lifers live as one family which Bishop Umunna has been indoctrinated into the church over the years.
You can hardly speak ill of the great servant of God in the public because his ministerial records are yet to be broken in Ajegunle and Nigeria. One of his sons in the lord, Bishop Matthew Omodiagbe of the Liberation Word Evangelical Ministries International once said that Bishop Leonard Umunna is a father to behold while Pastor Angela Ekpene- Umunna said he is a father with many feathers of achievements and his former staffer of Extra Real Nursery and Primary school, Evangelist Bridget Odidi said Bishop Umunna is a great emulator to this generation of youths and the few times I worked in his school, I was comfortable in life. His ministry remains one of the single largest congregations in Africa and abroad.
His milestone of celebrations varies from his silver 25, golden 50, ruby 40, pear 30 and bronze 8-years which many are looking at his platinum celebration of 70 and 75. Ten years from now as God permits, Bishop Umunna will be celebrating his septuagenarian to octogenarian to nonagenarian till eternity of a minister of God who diligently served God well without defeat or scandal.
Bishop Umunna is gradually passing through the hierarchy of ages that God gave to a man on earth and working assiduously to see that people received genuine salvation in Christ and nothing else. He has written over 60 books, articles filers and granted over 100 press interviews both electronic and print on the state of the nation and other intellectual issues in Nigeria. His weekly and Sunday's messages are powerful. One thing about Bishop Umunna is that, when he preaches in the altar, he is spiritually connected with God. He always gives insight of the topic before the real message of God. He is fondly called by his admirers as "Father of many professions"
A minister of God who had no privilege of completing his primary school but today, he is one of the renowned Nigerian professors with intimidating credentials with extra-ordinary legacies. He is one minister of God that always used any of his celebration to launch out a book and album. He is a man of God with knowledge. He has mapped out all the worldly and Nigerian celebrations to give out to the hopeless and to reach out the gospel of Christ to the people without qualms.
Bishop Ununna is one of the creative ministers of God in Nigeria that believes that his calling to Ajegunle city was not a mistake but a divine arrangement from God almighty. With the unction of the Holy Spirit, he was directed to start from Ajegunle instead of Surulere, Ikeja, Victoria Island or otherwise. He has several qualities rolled into one fold; he is a man of God robust intellect, a man of vision, a brave lion, a fighter, a savvy entrepreneur, a hospital administrator, a warrior, a musician, an apostle of faith, a lover of humanity, a philanthropist, an author, a Christian philosopher, a commentator on national issues, a social critic, a moral purist, a composer, a dramatist, a dreamer, an arranger of music, grassroots sports facilitator, a film producer/ director, a motivational speaker, a patriot, a mentor, a leader, a patron and above all, a faithful servant of the most High God. He has expeditiously worked hard to see the growth of the Pentecostal ministry in Nigeria. He is a man that has passion for education.
Today, he holds a PGD in Business Administration, Masters in Education, Doctorate Degree in Divinity- GMF and literature-USA; Fellow of the Chartered Institute of Public Administration; also fellow strategic Finance and Administrative Institute visiting faculty London College of Theology and currently General of GM Chaplaincy and Professor of Christian leadership. He is one minister of God, who has escaped death for 99 consecutive times. He has traveled all over the world even to deadly insurgent countries with magicians, but he succeeded in preaching the word of God to them and still remains alive to celebrate his diamond at 60.
Bishop Leonard Umunna has received several merit awards from different organizations as Apapa role model for humanity, best education manager, exemplary and committed service to God and humanity, authentic Drama producer, distinguished college proprietor, International Christian leader, courageous philanthropist, best artiste, king of Christian music, the most visionary, disciplinary and influential pastor, excellency for Nigeria community counseling and rehabilitation, transparency and excellency in ministry (PFN), African leadership and peace promoter, No 1 heart of God award (British society of arts-Nigeria) Global leader of integrity award, man of the year etc.
Bishop Leonard Umunna has met crème da la crème of people in the world. Bishop Umunna has cultivated the chemistry of working harmoniously with his ministers of God and hardly can you differentiate them from his biological children. He has equally employed large members of his church to his group of companies. He is a servant of God that has love for the less privileged ones in Ajegunle and beyond. His indelible footprints cannot be altered in the Pentecostal Assembly.
He has received a legion of honors and awards from professional bodies across the world. The only man of God that preferred to will his property to the church than his biological children. What a great man of God with integrity? He lost his wife few years ago that suffered with him in the ministry. He has great children doing well in the lord too.
At 60, Bishop Umunna has achieved a great feat in life. He has empowered many youths and aging people in Nigeria. He is a magnanimous giver to the core. He has supported many youthful visions to grow in Nigeria like Nelson Brown, Ace music producer and others. He has created a niche for himself. To this bishop, professor, author, musician, evangelist, doctor, academic and trusted leader, I say happy birthday and I wish you long life, good health and God's grace in the years ahead.
Godday Odidi.
Public Affairs Analyst.
08058124798. Lagos.
Disclaimer:

"The views/contents expressed in this article are the sole responsibility of

Godday Odidi

and do not necessarily reflect those of The Nigerian Voice. The Nigerian Voice will not be responsible or liable for any inaccurate or incorrect statements contained in this article."
Articles by Godday Odidi