Chibok protest leader arrested for impersonation – Pateince Jonathan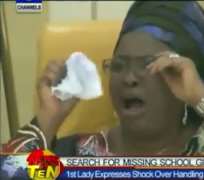 The wife of the President, Mrs. Patience Jonathan has given insight into the alleged of Naom‎i Mutah Nyadar, the leader of the ongoing protest "BringBackOurGirls", aimed at pressuring the Nigerian government to act and rescue over 240 schoolgirls abducted in Chibok, Borno state.‎
Nyadar, who is a Deputy Director at the National Directorate of Employment (NDE) in Abuja, ‎was according the First Lady arrested for impersonating  one of the parents of the abducted girls, named Grace when attended a meeting of governors wives, wives of lawmakers representing the constituency in Borno, and other key stakeholders in Borno as well as other women leaders in the country.
According to Mrs. Jonathan, "When they said they have come to lay complain to the government and the National Assembly, I asked for the leader of the mothers whose children were abducted, this woman was the one that came forward and said that her child was abducted. I believed her and I asked the Women Affairs Minister to follow her to the National Assembly.
"This is the woman who went to National Assembly with the women in black and she claimed that her child was missing and that she is the leader of parents that their children are missing in Chibok. Senate President believed them, even me believed them.
"God is leading us to the truth. Our coming out is not in vain. She called people like Oby (Ezekwesili) to follow her as they also believed her. Oby is innocent and I don't blame her because even me as First Lady, I was moved.
"Today, when I sighted her, I say within myself that we will get to the conclusion today because one of those whose child is missing is here. But to my greatest surprise, when we asked her, she said she is a representative. She wrote down her name as Grace. A whole civil servant impersonating, she should be arrested for impersonation."
She then turned to  the Commissioner of Police at the meeting and said: "You have to take this woman to I.G. and the President."
The women at the meeting then took turns to interrogate Nyadar, who  admitted that she was no a parent of any of the abducted  children but was there to represent one of those invited  to the meeting at the First Lady's conference room.
Nyadar said: "It was in the morning that somebody called me from Borno State, one Mrs. Grace. She said that she was supposed to come. But that since we are here as Chibok representatives, that we should come and represent her here."
On whether she has ever been to Chibok in last one year, she said : "I have not gone to Chibok in the past one year."
It was at this  point the Minister of Women Affairs, Zainab Maina, disclosed that to the gathering that the woman had last week admitted that she was one of the mothers of the abducted girls in Chibok.
According to Maina: "I saw this lady and two others on Tuesday. My deputy director came into my office and said you are talking about going to Chibok, mothers of those abducted girls from Chibok are here and they are in Eagles Square.
"When I asked them if they are mothers from Chibok, they said yes. I asked them where is their destination, and they said National Assembly and Villa.
"I said no, you can't come to Villa, may be National Assembly. I followed them to National Assembly to listen to what they wanted to tell the legislators. I sat to the end until they finished and I then asked them for the leader of the delegation. She came forward and I asked her where are the girls from Chibok, how many of them and if she could give me the names of the girls and she said that they were not from Chibok and that they are based in Abuja.
"I shouted oh my God, you have killed me. If I knew you are from Abuja, I won't waste my time to come here and talk to you. Later on somebody made enquiries and my Permanent Secretary took her phone number and name and she is a deputy director in NDE. I was really angry with them and walked out from the place", she said.
The Women Affairs Minister continuing said,  "What surprised me again is the gut she has to come here just by mere phone call from somebody in Borno State to represent her. This is not a market place, this meeting is a very official meeting aimed at resolving this problem of abduction. It is not for everybody to come, I don't know who gave you the invitation".
Mrs. Jonathan then interjected and said,  "So my sisters you can all see that within them they know what they are doing. With what is happening now, will you believe that any children got missing?"
They women responded  'nooooo!'.
She continued: "So, we the Nigerian women are saying that no child is missing in Borno State. If any child is missing, let the governor go and look for them. There is nothing we can do again. We will now go spiritual. What we women should pray for now is the killings in Borno to stop. God will reveal them one by one. The blood of the innocent victims will come out and speak."
Mrs. Jonathan also accused the school authority of conspiracy in the number of those who registered for exams conducted by the West African Examination Council ( WAEC), alleging that Boko Haram members registered as candidates.
She disclosed that one Chiroma Adamu, who is 60 years old, was registered for the 2014 WAEC exams in the school.
Directing her question to WAEC, she said: "Why did you register over 60 years old man for the WAEC exams? You have already put the people that will kidnap the girls into the hall. Is it true WAEC they came to write?
"If Chiroma Adamu is not over 60 years, bring him here before us. Some are 50 years plus and 40 years plus. Principal, you have already arranged your Boko Haram."
The WAEC Official, Charles Eguridu while responding to the observations raised said: "I want to assure this house that the result of all male candidates in the exam in that school will be vetted before they are released".
‎The women then resolved that 20 Christians and 20 Muslims women in the country, would gather  on Thursday to pray for what is happening in Borno State.